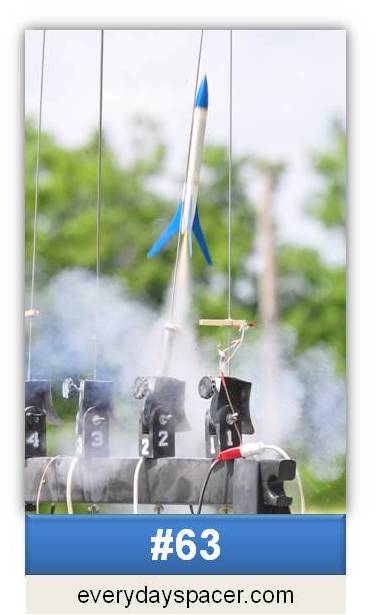 Various reminders lately have prompted me to mention this topic.
Perhaps it's obvious that building & launching model rockets
might be part of the Everyday Spacer activities.  It's still a fun and exciting hobby that young and old alike can participate in.
You might start by getting a kit, motors and some other gear
you'll need to create your first model.  A starter kit
would be perfect as it includes pretty much everything.
G. Harry Stine (a.k.a. Lee Correy as mentioned in Jeff's previous post) wrote some good books on the topic.
There are various clubs around the world and for those who wish to advance, some more extreme forms of launching rockets, etc.  We watched a show Sunday evening called Large Dangerous Rocket Ships 2012 and they launched all sorts of things with varying degrees of success.
If you get really serious, there are competitions like Master Blasters out there.  You can meet some interesting folks in this community.  Why not find out for yourself?
NOTES:
*Only for the careful and thoughtful as there is potential danger in this activity
*Kids require supervision, any adults
*The kit, supplies and other gear are fairly moderately priced though, like anything, you can go crazy on it
Sources
*http://spacer.pamhoffman.com/prepare-yourself-for-space-travel-part-4/
*http://www.flickr.com/photos/34022876@N06/3558282932/
MATERIAL CONNECTION DISCLOSURE: You should assume that the author has an affiliate relationship and/or another material connection to the providers of goods and services mentioned in this post and may be compensated when you purchase from a provider. You should always perform due diligence before buying goods or services from anyone via the Internet or offline.