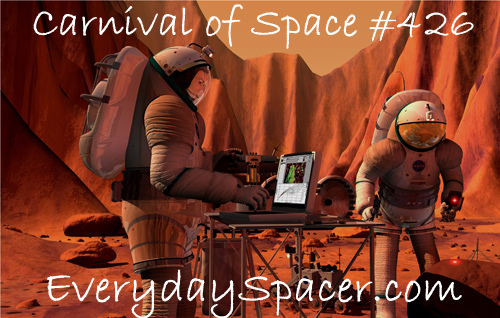 Have you seen "The Martian" yet? Don't be satisfied with being a spectator when you really want to be a participant!
There are many ways to personally and directly be 'a Martian' from right where you are. We listed some for you here.
Also, let the Carnival of Space be a resource for you! You can join if you are a blogger in the space exploration world. You can host by stepping up and adding your name to the list and you can find great ways from various members to do even more. If you are inspired by the movie, or anything else, why not do something about it?
Since you're here, you can start with these great articles by the do-ers and dreamers, the movers and shakers in the blogosphere.
On with the show!
A Fresh Perspective on an Extraordinary Cluster of Galaxies
Megan Watzke | Chandra X-Ray Observatory Blog
Galaxy clusters tend to be poor at producing new stars in their centers. They generally have one giant galaxy in their middle that forms stars at a rate significantly slower than most galaxies – including our Milky Way. The central galaxy contains a supermassive black holeroughly a thousand times more massive than the one at the center of our galaxy. Without heating by outbursts from this black hole, the copious amounts of hot gas found in the central galaxy should cool, allowing stars to form at a high clip. It is thought that the central black hole acts as a thermostat, preventing rapid cooling of surrounding hot gas and…
An Evening with Dr. Neil deGrasse Tyson
Kim Arcand | Kim Arcand & Megan Watzke
So, as someone who is passionate about communicating science with others, you can imagine how honored and thrilled I was to introduce him. It was also a pleasure to welcome him to the biggest littlest state in the union, because I was born, raised, and still live there today. Rhode Island is at a crossroads in not only developing physical space and infrastructure for science and technology jobs to help grow our economy and retain the knowledge bases coming out of our universities, but also in helping to develop the state's youngest talent so our children can flourish as engaged citizens, workers and perhaps even…
'Snakeskin' and Methane ice: Amazing New High-Resolution Images and Maps of Pluto from New Horizons
Paul Scott Anderson | Planetaria
NASA released more new images of Pluto last Thursday, and, as has come to be expected, they are spectacular. The "snakeskin" image shows rippling terrain reminiscent of snakeskin or dragon scales, while other images show Pluto's surface in the highest colour resolution yet. Spectral maps showing the distribution of…
The Saline Slopes of Mars: NASA Confirms Evidence for Flowing Liquid Water
Paul Scott Anderson | Planetaria
In a finding that is sure to fuel the ongoing debate about possible life on Mars, NASA announced yesterday the confirmation that intriguing seasonal dark streaks running down Sun-facing slopes are indeed flows of liquid water. The water is salty (briny), but just the fact that it is current liquid water, albeit transient and in relatively…
Mobile Launcher Upgraded to Launch NASA's Mammoth 'Journey to Mars' Rocket
Ken Kremer | Universe Today
KENNEDY SPACE CENTER, FL – NASA's Mobile Launcher (ML) is undergoing major upgrades and modifications at the Kennedy Space Center in Florida enabling the massive structure to launch the agency's mammoth Space Launch System (SLS) rocket and Orion crew capsule on a grand…
New Nova Flares in Sagittarius – How to See it in Your Scope
Bob King | Universe Today
A nova farmer would do well in the fields of Sagittarius. Four nights ago on September 27, Japanese amateur Koichi Itagaki plucked another "new star" from its starry furrows, the third nova discovered there this year!
For a few days, it was informally called Nova Sagittarii #3, but today received the official title of V5669 Sagittarii. Like the others, this one's…
What We've Been up to: Light Pollution, Solar Eclipse, Lunar Eclipse
Allen Versfeld | Urban Astronomer
Urban Astronomer has been trying his hand at Astronomy Outreach. This is how it's going so far. Recent activities include public talks on Light Pollution, providing video streams of the last solar eclipse, and using the lunar eclipse to make the world a slightly smarter place!
The Most Beautiful Equation
Ryan Marciniak | The Solstice Blog
Do scientists see beauty in Equations? What is the most beautiful equation?
Naturally, the most beautiful equation should be simple. It should be somewhat intuitive, yet surprising in it's result. It should explain something fundamental about the universe, while having an application that is…
Once again, we have our Carnival. Watch for stragglers here then find Carnival of Space #427 over on Allen Versfeld's Urban Astronomer. You'll be glad you did!
Image source: http://www.wired.com/2012/08/is-a-privately-funded-manned-mission-to-mars-possible/