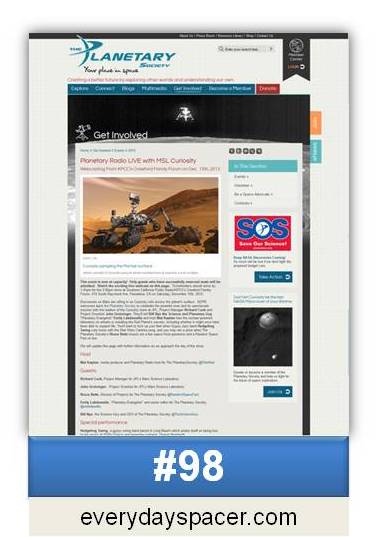 While the live event is full (and it's well worth watching for them) the webcast is available wherever you can get internet!
On December 15th at 2pm (in California, USA) SCPR hosts this mission briefing on the Curiosity rover.
"Discoveries on Mars are rolling in as Curiosity rolls across the planet's surface.  SCPR welcomes back the Planetary Society to celebrate the powerful rover and its spectacular mission with the leaders of the Curiosity team at JPL, Project Manager Richard Cook and Project Scientist John Grotzinger. They'll tell Bill Nye the Science and Planetary Guy, "Planetary Evangelist" Emily Lakdawalla and host Mat Kaplan how the nuclear-powered laboratory on wheels is revealing the Red Planet's secrets, including whether it might once have been able to support life. You'll want to kick up your feet when Gypsy Jazz band Hedgehog Swing cuts loose with the Star Wars Cantina song, and you may win a prize when The Planetary Society's Bruce Betts tosses out a few space trivia questions and a Random Space Fact or two. " ~Planetary Radio LIVE with MSL Curiosity
What a rich resource of activities for Everyday Spacers!  It's time to check out The Planetary Society again folks.
NOTES:
*Internet access
*Open to all ages
*No cost, even to the live event
Sources
*http://www.planetary.org/get-involved/events/2012/planetary-radio-live-celebrates-curiosity.html
MY APOLOGIES I recently activated a 'captcha' plug-in. Each comment will now verify you are a visitor who wants to leave an actual comment. I saw hundreds of messages a day which had nothing to do with Everyday Spacer, or you. The task of sifting and sorting was keeping me from writing and from your real comments. Please reach out as you wish, I want to hear from you and be of service, as I am able. I would not use the 'captcha' program if I didn't have to.