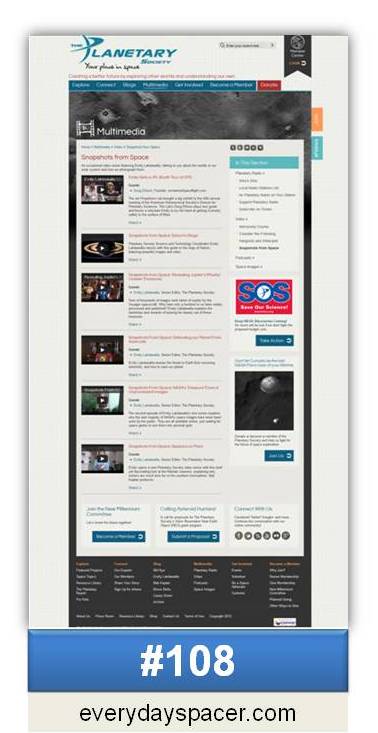 Emily Lakdawalla produces a series of videos called Snapshots from Space.  These are videos mostly about space photographs.  We mentioned one the other day.
"An occasional video series featuring Emily Lakdawalla, talking to you about the worlds in our solar system and how we photograph them." ~Snapshots From Space
Turns out, there are a bunch just waiting to be watched!
From explaining the seasons on Mars to sorting out Saturn's rings, it seems there is already plenty of variety in the six videos on the Snapshots from Space page of The Planetary Society website as of this publication.
This might be a weekly show.  The most recent appears at the top.
They began fairly short and are get longer over time.  Fortunately, the content is fascinating and Emily is an engaging story teller.
Emily is 'Senior Editor' of The Planetary Society.  I think that doesn't even begin to explain what she does for them.
Do yourself a favor, pop over and see Snapshots from Space for yourself. You'll be glad you did!
NOTES:
*Need access to the internet
*Anyone could enjoy the info
*No cost to watch
Sources
*http://www.planetary.org/multimedia/video/snapshots/
*http://www.planetary.org/about/staff/emily-lakdawalla.html
MY APOLOGIES I recently activated a 'captcha' plug-in. Each comment will now verify you are a visitor who wants to leave an actual comment. I saw hundreds of messages a day which had nothing to do with Everyday Spacer, or you. The task of sifting and sorting was keeping me from writing and from your real comments. Please reach out as you wish, I want to hear from you and be of service, as I am able. I would not use the 'captcha' program if I didn't have to.