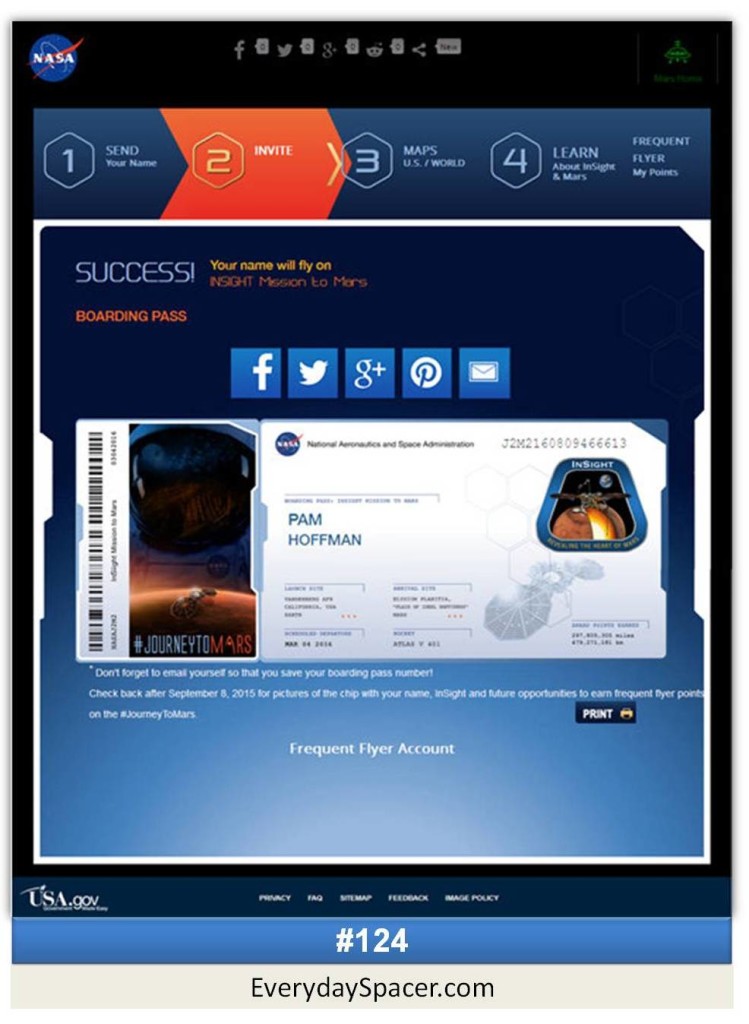 Send Your Name to Mars: InSight
NASA is offering a series of 'boarding passes' and 'frequent flier miles' for riding along with them, virtually, on several flights including the upcoming launch of the InSight spacecraft scheduled to leave Earth March 2016 and land on Mars September 2016.
InSight Key Dates
*Launch: March 4 – March 30, 2016
*Landing: Landing: September 28, 2016
*Surface operations: 728 days / 708 sols
*First science return: October 2016
*Instrument deployment: about 60 sols (including 20 sols margin)
*Data volume over 1 Martian year: More than 29 Gb (processed seismic data posted to the Web in 2 weeks; remaining science data less than 3 months, no proprietary period)
*End of Prime Mission: September 26, 2018
InSight (Interior Exploration using Seismic Investigations, Geodesy and Heat Transport) is a NASA Discovery Program mission that will place a single geophysical lander on Mars to study its deep interior.
~InSight Mission Page
Would you like to go too? It's easy and fun!
Just find the website.
Direct link: http://go.usa.gov/3Aj3G
Hash Tag: #JourneyToMars
Then add your information to register!
We missed the first one: Orion
I don't think it went very far because "The Orion Multi-Purpose Crew Vehicle is a spacecraft intended to carry a crew of up to four astronauts to destinations at or beyond low Earth orbit." ~Wikipedia
They have only tested the Orion module near Earth so far.
I suggest you go now "Last Day to Register: September 8, 2015 (Midnight ET)" ~ NASA InSight website So you don't get left behind!
Here's what a boarding pass looks like:

Once you register, you'll get your boarding pass, frequent flier miles and you can browse around to learn more about InSight and Orion. You'll notice too that the 'patch' appears if your name is on that launch. There are three future 'patches' waiting for you there too.
Let's go!
NOTES:
*Looks like anyone can participate.
*Just visit the site and sign up!
*I'm guessing that anyone in the world can do this.
Source(s):
*Received email from JPL (daily)
*https://en.wikipedia.org/wiki/Orion_%28spacecraft%29
*http://insight.jpl.nasa.gov/home.cfm
*http://mars.nasa.gov/participate/send-your-name/insight/
*http://insight.jpl.nasa.gov/overview.cfm