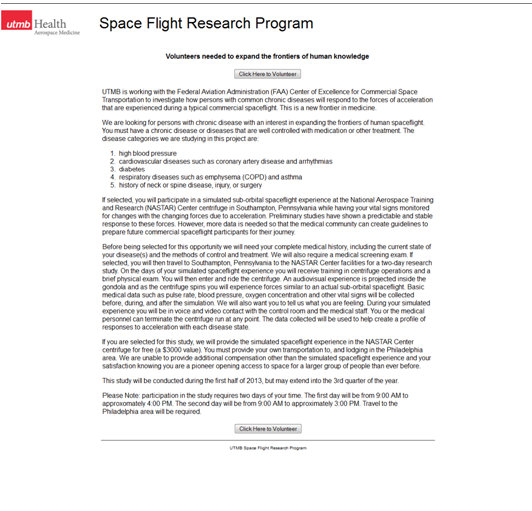 Are you diabetic?  Or have high blood pressure?
You might be eligible for a Space Flight Research Program!
"UTMB is working with the Federal Aviation Administration (FAA) Center of Excellence for Commercial Space Transportation to investigate how persons with common chronic diseases will respond to the forces of acceleration that are experienced during a typical commercial spaceflight. This is a new frontier in medicine.
"We are looking for persons with chronic disease with an interest in expanding the frontiers of human spaceflight. You must have a chronic disease or diseases that are well controlled with medication or other treatment. The disease categories we are studying in this project are:" ~See List
They want to put you in a centrifuge and check your vitals.
What a way to help the cause!  This study will help open the frontier to more people.
Visit the site for details and the link to volunteer.  They have several dates in August listed.  You must cover your expenses however.
It's All About Action!