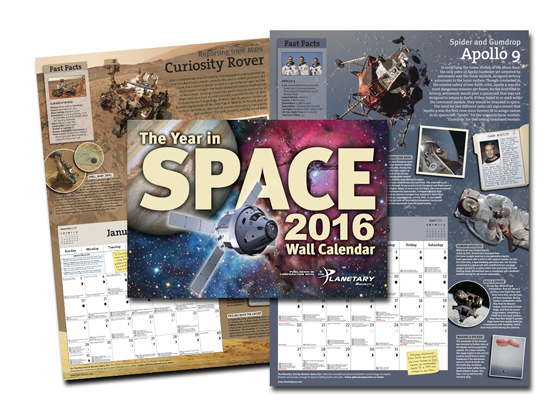 Today, I turned to the last page of the Year in Space Calendar 2015 and realized that I need this Calendar every year now!
And, thankfully, Steve Cariddi generously sent me the 2016 version to review. As I open it, it feels like Christmas coming early.
This is an incredible Calendar with a capital C! It's huge. I forget how big it is because it's been on the wall where I see it every day, several times a day.
Next month, the 2016 version will hang in that spot.
Before I even get it open, this is a great resource. You know that inner cardboard piece to keep it straight and nice? I pull that out and preserve it for making crafts. I'll use as much of it as I can someday.
I have been 'green' for many, many years now. I always thought of it as 'spaceship thinking' because resources could be very limited out there on a spaceship and everything will need to be use to the max. It's getting to be that way here on Earth too.
When you open the cover, the first thing you get is a nice message from Bill Nye. The two page spread includes image credits, acknowledgements, recommended websites and the publisher's contact information.
Reading all of this is a great way to extend anticipation and it's a lot of cool stuff too!
The star of the Calendar is the beautiful poster-like inner pages. From historical details to bios on interesting people and tons of facts, it looks like it's going to be another great Year in Space!
OMG they have a full page on the LightSail this year! Oh, I can't wait for April when I can read all about that. Each new page takes me several days to read all of the interesting little paragraphs and I reference the rest of it all month for ephemera and other facts.
"DARK MATTER FOUND" headlines one of the paragraphs in May. I wonder what that's all about. I have a special interest in the mass anomaly because I did some research on it many years ago and offered a presentation to the astronomy club I was a member of at the time.
My favorite page is August. Sneak peak here: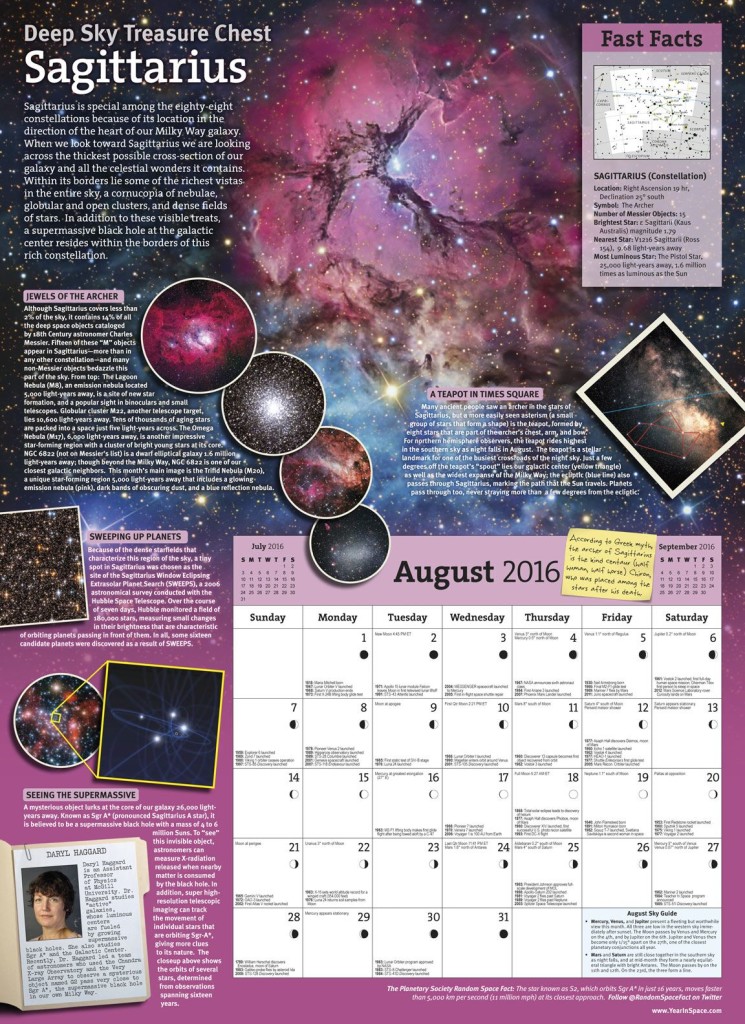 The rest, you'll have to see for yourself and, in my opinion, you really need to. Don't dally though! I know Steve sells out of these pretty quickly each year and space is a hot topic these days. Last October, the JPL Open House was swamped by 70,000 people hoping to attend and many were turned away driving up to the facility!
If the huge Calendar doesn't fit your needs, there are other choices so take a look here. You'll be glad you did!
Disclosure: I was not financially compensated for this post. I received a sample of the product for review purposes. The opinions are my own, based on my personal experience with the product.