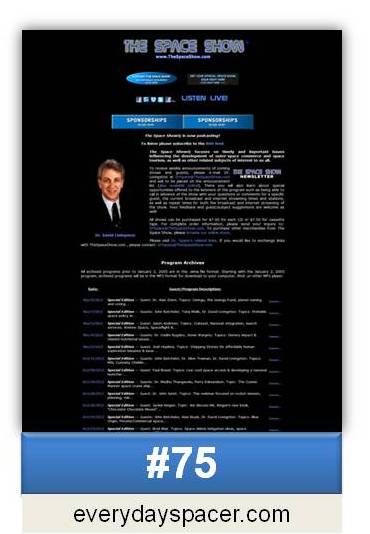 For over a decade now, Dr. David Livingston has been interviewing different interesting and important people involved with the space community, several times a week.
"The Space Show® focuses on timely and important issues influencing the development of outer-space commerce and space tourism, as well as other related subjects of interest to us all."
I counted 5 interviews per week of late and I've read that it was an online radio broadcast 2 times a week.  David probably started with 2/week and accelerated.
Consequently, there is a huge archive of interviews.  And the people interviewed range all over the map from scientists to entrepreneurs to astronauts.  The topics are rather diverse as well.
Hear current episodes, sign up for email notifications, advertise on the site, check out the archives or any or all of the above.
The nice thing about David's archive is that there is enough detail to zero in on what or who you'd like to hear.  So often, I just see an archive full of dates and nothing about the content.
This is a very useful site for the casual listener on up to the serious spacer who wants to prepare for space travel.  If you'd like to know about specifics in this industry, go hear the movers and shakers, in space, on Dr. David Livingston's regular, online radio program:  The Space Show today!
NOTES:
*Access to the internet may be required, recordings could be heard elsewhere as well (mp3 files, etc.)
*Any age with interest
*No cost to tune in, recordings are available for sale
Sources
*http://www.thespaceshow.com/