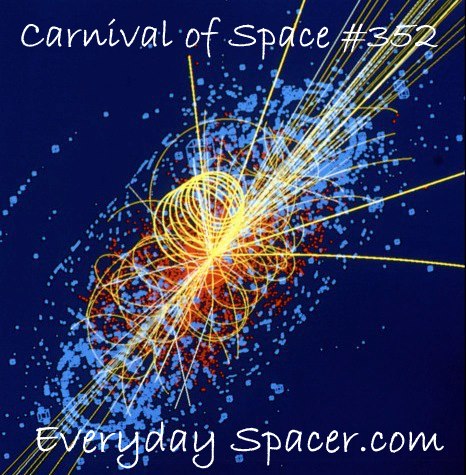 Welcome to the Carnival of Space! This is CoS #352, once again hosted by Everyday Spacer. We invite you to the Carnival, if applicable, and you can learn how it works when you visit this page.
This time we explore NASA funding, Suing the Air Force, Cosmos, LADEE, Asteroids vs. Earth, Mars, Spacesuits, the Moon and much more this time.
Step Right Up!
Penny4NASA – One of the Most Inspiring Videos You'll See Today
Zain Husain | Brown Space Man
An inspiring video that conveys why we should spend more on space exploration. An emotional appeal to why we need a Penny4NASA.
SpaceX CEO Elon Musk Sues Government to Break US Air Force's National Security Launch Monopoly
Ken Kremer | Universe Today
Elon Musk, CEO and founder of the upstart commercial launch venture SpaceX, announced at a press conference today, Friday, April 25, that SpaceX is filing suit against the Federal Government to protest and break the US Air Force's awarding of lucrative launch contracts for high priority national security satellites to a sole rocket provider – United Launch Alliance (ULA) – on a non competitive basis.
Cosmos: The Show Teaching the Methods of Academic Infighting
Jeff Miller | Everyday Spacer
Jeff's reply to my post as we continue to review the show "Cosmos" by way of a discussion.
LADEE Sees Zodiacal Light before Crashing into Moon, but Apollo Mystery Remains
Bob King | Universe Today
NASA's Lunar Atmosphere and Dust Environment Explorer (LADEE) literally 'saw the light' just days before crashing into the lunar farside last Thursday April 17. Skimming just a few kilometers above the moon's surface, mission controllers took advantage of this unique low angle to gaze out over the moon's horizon in complete darkness much like the Apollo astronauts did from lunar orbit more than 40 years ago.
Asteroids VS. Your Hometown: Fun but Frightening Graphics Compare Asteroid Sizes to Places on Earth
Nancy Atkins | Universe Today
Space enthusiast and software engineer Ciro Villa has brought some of these references closer to home with these fun graphics that provide accurate size ratios and proportions of objects in space compared to places on Earth.
Spacecraft Uncovers Changing Martian Surface
Allen Versfeld | Urban Astronomer
Newly released images from the Mars Reconnaissance Orbiter (MRO) have shown that the surface of Mars is a far more dynamic place than previously suspected. Aside from spotting new meteor impact craters and planet-wide dust-storms that we already knew about, the MRO has spotted long dark features that grow seasonally down slopes on the Martian surface. They first appear in the spring and grow to lengths of a kilometer or more in the summer, before then retreating to vanish entirely come winter. Scientists speculate that…
Extreme Makeover: Astronaut Edition – NASA's Futuristic New Spacesuit Designs
Paul Scott Anderson | The Meridiani Journal
Extreme Makeover: Astronaut Edition – NASA's futuristic new spacesuit designs
New Moon Timelapse
Gadi Eidelheit | The Venus Transit
New moon report -photos and moonset timelapse
Spacex Will be Trying to Get the Dragon Crew Rated in 2014 and They Have Won an Injunction Against Lockheed and Boeing Blocking Purchase of Russian Rocket Engines
Brian Wang | Next Big Future
A U.S. Court of Federal Claims judge issued an injunction late Wednesday prohibiting a joint venture between Lockheed Martin and Boeing from proceeding with plans to buy Russian-made rocket engines. SpaceX sued the federal government Monday, protesting the Air Force's award of a lucrative space contract, saying it should have been competitively bid.
Seven Minute Video Where Woodward Explains Mach Principle for Mastering Inertia for Near Lightspeed Propellentless Travel and Stargates
Brian Wang | Next Big Future
Dr. James F. Woodward explains how to build faster-than-light warp drives and even stargates, based on Mach's principle which would allow spacetime distortions compatible with general relativity. In his research lab at California State University, Fullerton, he tries to demonstrate Mach effects in various experiments to validate the theory.
Problems with the Big Bang Expanding Universe Theory
Brian Wang | Next Big Future
In a startling challenge to the widely-popular Big Bang theory, new evidence, to be published this week in the International Journal of Modern Physics, D, indicates that the universe is not expanding after all. The evidence, based on detailed measurements of the size and brightness of hundreds of galaxies, adds to a growing list of observations that contradict the predictions of the increasingly complex Big Bang model.
Brown Dwarf Stars with Arctic Temperatures Between -48 to -13 Degrees Celsius
Brian Wang | Next Big Future
There could be a whole category of nearby, cool stellar objects which could be referred to as 'Luhman objects' A Brown Dwarf object that is thought to be between -48 to -13 degrees Celsius, colder than previous record holders, which were found to be close to room temperature. WISE imagery from 2010 was confirmed by two additional images taken by Spitzer in 2013 and 2014, with further observations at the Gemini South telescope on Cerro Pachon in Chile. The WISE and Spitzer data were used to measure the distance to the object via parallax. It turns out to be 7.2 light years away, fitting nicely into the chart below, which shows the Sun's immediate neighborhood.
Thank You
Nicole Gugliucci | CosmoQuest
THANK YOU from CosmoQuest for all the support and love during our Hangoutathon. Here are some resources we debuted during the event, links to the videos, and an introduction to the 36-Day fundraiser to continue.
My Solar Eclipse, Tuesday April 29 2014
Ian Musgrave | Astroblog
My images and account of the recent partial solar eclipse and the footpath astronomy session that occurred in an Adelaide car park
Russia to NASA: "Try Jumping To ISS On A Trampoline"
Mika McKinnon | Space io9
Russia taunts NASA to commit to their sanctions and use trampolines to get to the space station. Physicist Jonathan McDowell calculates how badly that would work as an alternative launch system.
Mika McKinnon | Space io9
Snoopy the Astrobeagle, NASA's Mascot for Safety
Mika McKinnon | Space io9
Snoopy from Peanuts really is NASA's official safety mascot, and has been since the Apollo program.
Hazard Detection During the Morpheus Test Flight
Mika McKinnon | Space io9
The prototype Morpheus planetary explorer has another successful test flight, this time using automated hazard detection to spot a safe landing spot.
A New Rover Self-portrait and a New Color Image of Curiosity from Orbit
Emily Lakdawalla | The Planetary Society
What does it take to get from raw images to a beautiful self-portrait for a solitary rover on Mars.
Cosmic Daze
Maki Naro | Popular Science
Deep space exploration will mean prolonged travel outside the protection of the Earth's magnetic field. Recent research on the health impacts of radiation on cognitive function are not good for sending healthy astronauts to Mars.
Watch for any stragglers if more articles are added.  It's a pretty full Carnival so enjoy!