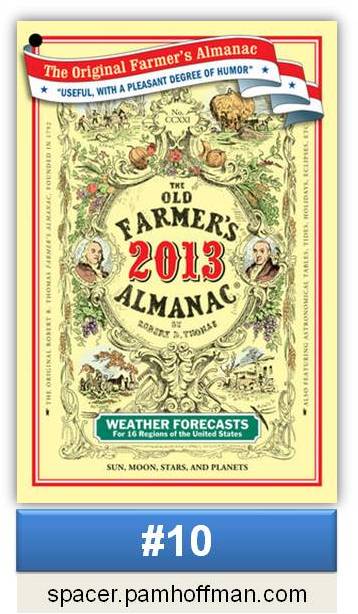 Yay!  I got a copy of the 2013 Farmer's Almanac today.  In addition to the planisphere, the annual edition of the Farmer's Almanac is a great tool for studying the movements of the swift, ephemeral* events, like the moon and the planets, in the night sky.
Every fall, The Old Farmer's Almanac
is published for the following year.  That's my favorite one.
I'll delve into the book a little more next in preparation for the 2013 viewing season.
*Ephemeral things (from Greek εφήμερος – ephemeros, literally "lasting only one day"[1]) are transitory, existing only briefly. Typically the term is used to describe objects found in nature, although it can describe a wide range of things. Wikipedia
NOTES:
*Reading ability
*Ages 6-8 and up
*Under $10 or check your local library
MATERIAL CONNECTION DISCLOSURE: You should assume that the author has an affiliate relationship and/or another material connection to the providers of goods and services mentioned in this post and may be compensated when you purchase from a provider. You should always perform due diligence before buying goods or services from anyone via the Internet or offline.