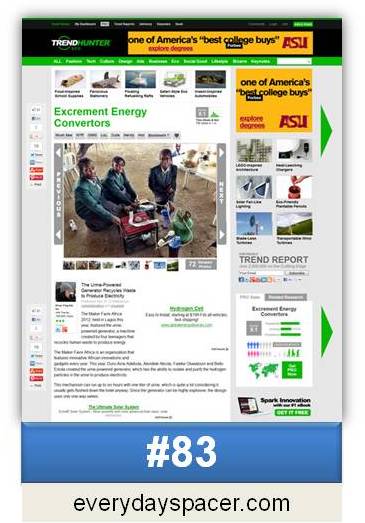 When we live and work and play off world, we must live in habitats much smaller than our garden planet Earth.  That means, we must get much, much better at reusing and recycling, in every way possible.
This includes our bodies' wastes.  There were experiments with volunteers who tried recycled urine.  While the folks who drank the new water were satisfied, the idea of drinking recycled pee…
If that sounds pretty unsavory to you, there may be an alternative.
A few teenagers in Africa found an alternative use for this resource.
They created a process to transform urine into power.
"…Duro-Aina Adebola, Akindele Abiola, Faleke Oluwatoyin and Bello Eniola created the urine-powered generator, which has the ability to isolate and purify the hydrogen particles in the urine to produce electricity" ~Trend Hunter
This is the kind of innovative solutions we will need out there.
Are you doing all you can to recycle, etc.?
This has been the norm for me for decades.  I was green when it was still a color.  I always just called it spaceship thinking.
NOTES:
*Anyone can recycle, etc.
*Any age can do this
*No cost to start
Sources
*http://www.trendhunter.com/trends/urinepowered-generator