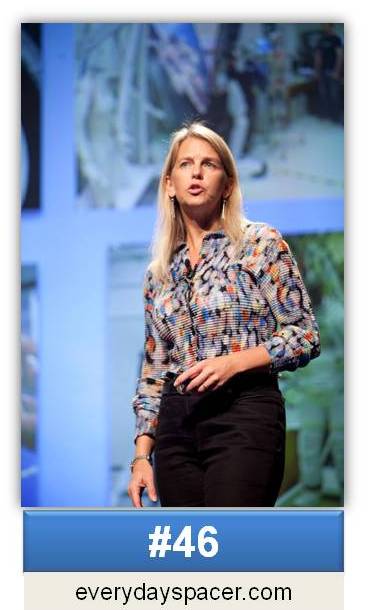 What's that your saying? Nothing described so far floats your boat? OK then, Design Something! You're smart, you're creative, why not?
And there are certainly puzzles to solve. Puzzles like protecting the human body in the vacuum of space while allowing the astronaut the ability to do all the things she needs to do.
People like Dava Newman (pictured) are doing just that:  "Dava is an Aeronautics and Engineering Professor at MIT. She is currently working with NASA to develop a new, more efficient spacesuit for future space exploration." ~Nova
Dava is continuing the work started earlier as described here:
"A space activity suit (SAS) or mechanical counterpressure suit is an experimental spacesuit which applies stable pressure against the skin by means of skintight elastic garments. The SAS is not inflated like a conventional spacesuit: it uses mechanical pressure, rather than air pressure, to compress the human body in low-pressure environments. Development was begun by NASA and Paul Webb in the late 1960s but was discontinued in the early 1970s. Pressurized suits are still currently used. Research is under way at the Massachusetts Institute of Technology (MIT) on a "Bio-Suit" System which is based on the original SAS concept." ~Wiki
With things like 3D printing and other machines building things at your command, it is increasingly more possible for you to design something yourself.
See something you think can be improved upon or replaced by something even better that you can conceive or do? Consider it a challenge and go for it!
NOTES:
*Only limited by your imagination and resources
*This is not age sensitive
*Cost depends a lot on what it is and your abilities
Sources
*http://www.pbs.org/wgbh/nova/secretlife/scientists/dava-newman/
*http://en.wikipedia.org/wiki/Space_activity_suit
*http://www.astronautix.com/craft/biosuit.htm
*http://www.coolest-gadgets.com/20070717/new-space-suit-concept-slims-and-trims/
*http://mydisguises.com/2009/06/30/astronaut-fashion-the-modern-spacesuit/
*http://www.flickr.com/photos/poptech/6265094182/