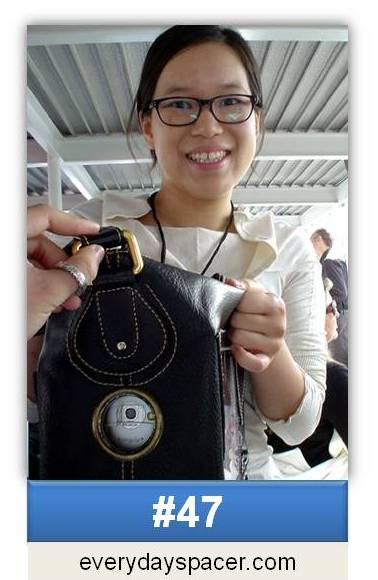 Perhaps you aren't an Aeronautics and Engineering Professor at MIT like Dava Newman who we mentioned in Design Something Part 1.
That's OK, you can still design things.
There are other ways to learn things and create things.  How about an apprenticeship or just doing those things?
Remember the cute girl with the Ham Radio? Turns out she's a known designer:
"Diana Eng (born 1983 in Jacksonville, Florida) is an American fashion designer and was a contestant on the second season of the reality television program Project Runway. She attended Stanton College Preparatory School and later the Rhode Island School of Design. Eng's work has been featured on the cover of i-D magazine and in the Boston Globe. Eng held a major fashion show after the success of Project Runway and had model Diana Georgie as the opening catwalker." ~Wiki
Yet, Diana uses technology in her designs and knows enough to carry a Ham Radio license.  In this day and age, you can learn virtually anything, if you really want to.
A little more about Diana Eng (pictured)…
"Diana Eng presented the Fairytale Fashion Collection in a technology fashion show on Wed., February 24, 7PM, at Eyebeam. Models hit the runway while an orchestra of circuit bending DJs create music from hacked video game consoles.
"The Fairytale Fashion Collection uses technology to create magical clothing in real life. Electronics, mechanical engineering, and mathematics are used to create clothing with blooming flowers, changing colors and transforming shapes. Research and development for the Fairytale Fashion collection are shared online at FairytaleFashion.org as an educational tool that teaches about science, math, and technology through fashion. Fairytale Fashion was created with the support of Eyebeam Art and Technology Center, the leading not-for-profit art and technology center in the United States.
"Diana Eng is a fashion designer who specializes in technology, math, and science. Her designs range from inflatable clothing to fashions inspired by mechanical engineering. She is a designer from Bravos Emmy nominated TV show, Project Runway season 2 and author of Fashion Geek: Clothes, Accessories, Tech. Diana is cofounder of NYC Resistor hacker group. Diana is currently a resident artist at Eyebeam."                          ~See-Ming Lee's photostream
Lara Grant is a member of the "…orchestra of circuit bending DJs create music from hacked video game consoles." who's training is also in fashion, and created music with a sewing machine and some circuitry…
"Lara Grant, part of the circuit bending orchestra for Diana Eng's Fairytale Fashion Show held at Eyebeam NYC. Through various hacks and circuit bending techniques, Lara's sewing machine trigger signals that is then fed onto laptops running MAX/MSP to produce the final soundtrack for the runway. Other team members of the orchestra are Peter Kirn and Matt Ganucheau." ~Ibid
You know, we'll need everything out there, and some things must be adapted for the different environment and circumstances.  Who knows who will design the clothes we'll wear or the jewelry we'll adorn ourselves to take advantage of that special place.
Why not you?
NOTES:
*Only limited by your imagination and resources
*This is not age sensitive
*Cost depends a lot on what it is and your abilities
Sources
*http://en.wikipedia.org/wiki/Diana_Eng
*http://www.flickr.com/photos/seeminglee/with/4389988633/#photo_4389988633
*http://www.flickr.com/photos/hahatango/2081631122/