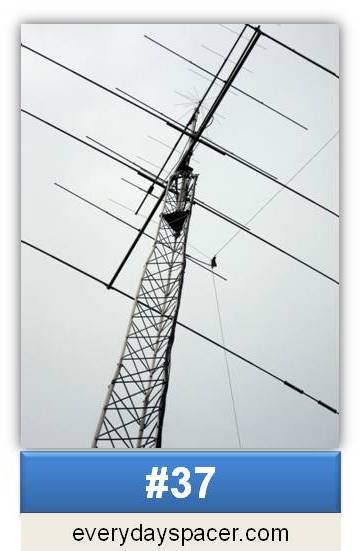 Well, there are lots of Amateur Radio Satellites, or HamSats, overhead and they orbit the earth many times a day.
So what?
How does that help you?
It seems that there are several types of satellites up there and a few ways to use them.
If you are a Ham and you know more, by all means, chime in, correct me or whatever.  I just know about them and I'm digging up the rest of this from anywhere I can.  Thank you.
The simplest way to participate seems to be to tune into certain FM frequencies and listen to the astronauts on the ISS (International Space Station) if the astronauts are operating their radios.
"The following instructions will get you started listening to birds (satellites) on FM, which can be done with a simple VHF/UHF FM radio with a whip antenna, without the need of a ham license. For better coverage, you can use a Yagi antenna (like the one pictured above) connected to a mutli-mode radio and a license (if you want to transmit). A Yagi antenna can also be used to improve the signal of your hand held radio." ~Diana Eng
You must know two things.
One, where you are on Earth, and two, what is overhead.
Both can be had from one of our favorite sites:  Heaven's Above.  To get your Latitude and Longitude, find your city, just like we  described in the Satellite Tracking post.  Once you have that, click on the link:  "Radio amateur satellites – 24 hour predictions (all passes)" or visit the AMSAT Online Satellite Pass Predictions page.
After that, you get into some pretty technical stuff like uplink & downlink using the satellites as 'repeaters' whereby you bounce your message up to the satellite and back down somewhere else on Earth seeking another Operator.
I think we need at least one more post about this so watch for that soon.  This will keep us busy in the meantime…
A list of Amateur Satellites and Amateur Radios Aboard Piloted Spacecraft including the frequencies for the craft.
You can get your own Ham/Amateur Radio license with your own call sign , start at the ARRL site.
NOTES:
*Some Equipment May be Necessary
*No Minimum or Maximum age, Just Pass the Tests
*There May be Some Costs Involved
Sources
*http://blog.makezine.com/2009/07/22/catching-satellites-on-ham-radio/
*http://www.heavens-above.com/
* http://www.amsat.org/amsat-new/tools/predict/
*http://www.spacetoday.org/Satellites/Hamsats/HamsatNamesFreqs.html
*http://www.flickr.com/photos/ka3rkw/178689031/