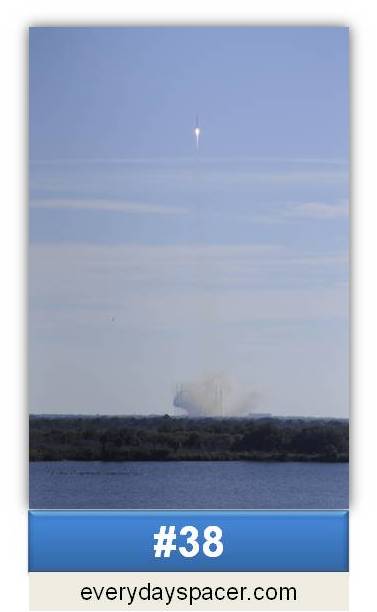 If you are anywhere near Cape Canaveral, FL, USA Sunday night, October 7th, there is a chance to see the rocket contrail of the SpaceX Dragon launch.  It launches a little late – still worth looking for.
This flight is significant because the SpaceX Dragon is taking the first official payload to the ISS (International Space Station) delivered by a private company. At almost 1,000 lbs of supplies, "Much of Dragon's cargo is material to support extensive experimentation aboard the space station. One deals with plant growth. Plants here on earth use about 50% of their energy for support to overcome gravity. Researchers want to understand how the genes that control that process would operate in microgravity – when objects are in free-fall in space. Down the road, that could benefit food supplies here on the planet." ~Light Years
So if you, or someone you know, are so lucky to be in that area, take a look and see if you can catch a look at a rocket contrail, and history in the making.
NOTES:
*Need to be in the area
*Anyone can look up
*If you're in the area, it's a free show
Sources
* http://lightyears.blogs.cnn.com/2012/10/05/spacex-to-launch-flight-to-space-station/#
*http://www.flickr.com/photos/herrea/5243699379/