My Facebook friend, Robert Brand, from Australia, wrote a letter which may make history.  You can too.
Here's the post, as I found it, reprinted here with permission…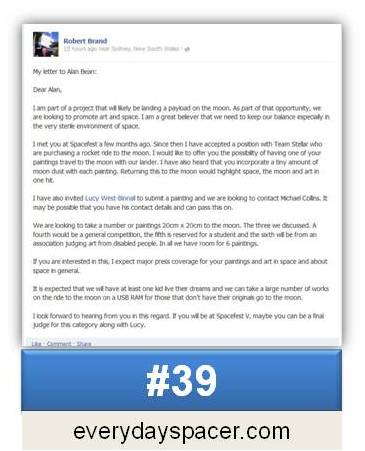 My letter to Alan Bean:
Dear Alan,
I am part of a project that will likely be landing a payload on the moon. As part of that opportunity, we are looking to promote art and space. I am a great believer that we need to keep our balance especially in the very sterile environment of space.
I met you at Spacefest a few months ago. Since then I have accepted a position with Team Stellar who are purchasing a rocket ride to the moon. I would like to offer you the possibility of having one of your paintings travel to the moon with our lander. I have also heard that you incorporate a tiny amount of moon dust with each painting. Returning this to the moon would highlight space, the moon and art in one hit.
I have also invited Lucy West-Binnall to submit a painting and we are looking to contact Michael Collins. It may be possible that you have his contact details and can pass this on.
We are looking to take a number or paintings 20cm x 20cm to the moon. The three we discussed. A fourth would be a general competition, the fifth is reserved for a student and the sixth will be from an association judging art from disabled people. In all we have room for 6 paintings.
If you are interested in this, I expect major press coverage for your paintings and art in space and about space in general.
It is expected that we will have at least one kid live their dreams and we can take a large number of works on the ride to the moon on a USB RAM for those that don't have their originals go to the moon.
I look forward to hearing from you in this regard. If you will be at Spacefest V, maybe you can be a final judge for this category along with Lucy.
–end–
What are YOU involved in or into?  How can space play a roll in that?  Who can you write to and move forward your space agenda?
NOTES
*Can you write (or dictate) a letter?
*This is kid friendly
*Stationary supplies and a stamp is all you need
Source(s)
*https://www.facebook.com/Echoes.Of.Apollo/posts/10151117899708229?comment_id=269216250&notif_t=like