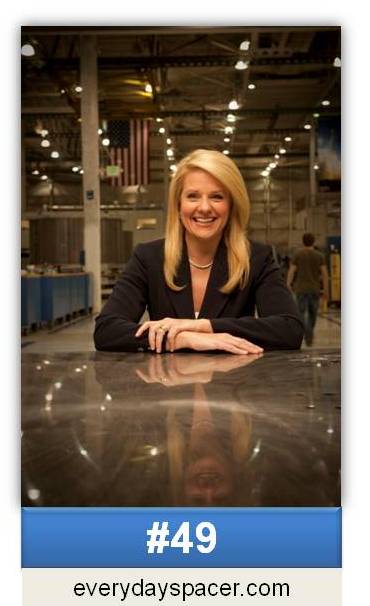 Maybe you'd rather do something a little less object oriented and devote your energy and creativity into a business like Gwynne Shotwell does.  Gwynne (pictured) is the current president of SpaceX.  She's in charge of people who build stuff.
"HAWTHORNE, CA – December 17, 2008 – Space Exploration Technologies Corp. (SpaceX) has announced the appointment of Gwynne Shotwell as President, effective immediately. In her new position, Shotwell will be part of the Office of the Chairman and CEO and report to Elon Musk, CEO and CTO. As President, she will focus on the operational activities of SpaceX, including sales, marketing, manufacturing, launch operations, legal, government relations and finance.

"Ms. Shotwell joined SpaceX in 2002 as Vice President of Business Development to generate and manage SpaceX's customer base and the company's strategic and government relations. Previously, she served for ten years at The Aerospace Corporation and before that, directed business development at Microcosm, Inc. She began her engineering career at Chrysler Motors.

"Ms. Shotwell graduated with honors from Northwestern University with a Bachelor's degree in Mechanical Engineering and a Master's in Applied Mathematics." ~ SpaceX
Most big businesses started as small businesses and they both have their place as economic engines for any country.
We, as a species, are known to bounce back from adversity – if it doesn't kill us, it makes us stronger. Building a business right now will definitely be beneficial, wherever you are.
If this is the thing for you, by all means, find your niche and go get it!
NOTES:
*Business information and knowledge, mentors and persistence
*Anyone can go into business at even a young age
*There will be costs in time, energy, effort and money
Sources
*http://www.spacex.com/press.php?page=20081217
*Photo used with permission from SpaceX