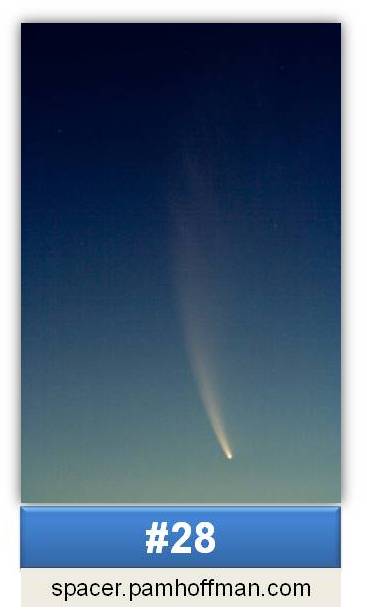 Did you know that regular people all over the world discover comets?
I only thought of it because a new comet, C/2012 S1, has been discovered recently and it could be pretty spectacular in November 2013. The most important thing is that it will pass the Earth very closely, and it could be very bright, as a result.
" A new comet has been discovered that is predicted to blaze incredibly brilliantly in the skies during late 2013. With a perihelion passage of less than two million kilometres from the Sun on 28 November 2013, current predictions are of an object that will dazzle the eye at up to magnitude —16. That's far brighter than the full Moon." ~Astronomy Now
There are a couple of ways to discover comets. You could hang out with a telescope like David Levy and Carolyn Shoemaker do, looking directly at the night sky.
I just learned about another interesting tool though. According to Wired, there are quite a few people combing through SOHO (Solar and Heliospheric Observatory) images. In fact, they are finding comets, etc. the scientists missed! It's a friendly competition though.
Hey, they (SOHO) has a page listing meetings! As of this post, the next one is 'Space Weather and Challenges for Modern Society' October 22-24, 2012 in Oslo, Norway.
Some fun trivia…
"There may be no record of the individual who first discovered comets. But there's a record as to where the word in English comes from. Its origins go back to the classical Latin word 'cometes', which is from the even earlier, ancient Greek. The original word 'kome' is classical Greek for 'hair of the head'. From that word, its pioneer use in the form 'kometes', as 'stars with hair', is credited to Aristotle [384 B.C.E. – 322 B.C.E.]." From Wiki Answers Who discovered comets?
So, what floats your boat? This actually sounds pretty cool to me!
NOTES:
*Need some time, access to SOHO information, maybe some equipment
*Age is virtually irrelevant
*There may be cost of equipment
Sources
*http://astronomynow.com/news/n1209/25comet/
*http://www.flickr.com/photos/wrathdelivery/362826267/
*http://www.wired.com/science/discoveries/news/2002/05/52233?currentPage=all
*http://www.cbat.eps.harvard.edu/CometDiscovery.html
*http://sohowww.nascom.nasa.gov/