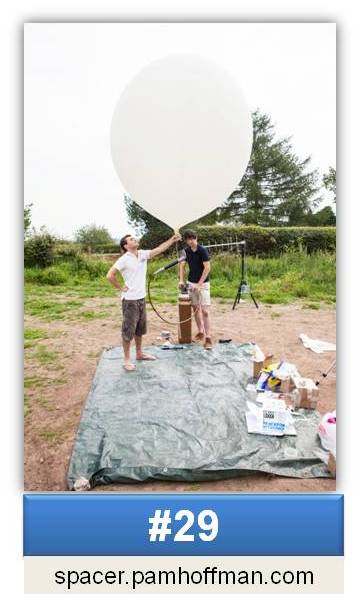 I found a really fun story yesterday on Facebook [thank you Roger Weiss!] about a kid who launched a weather balloon into space from his driveway recently.
He even got it back:
" The balloon, which landed on August 25, is the brainchild of a 14-year-old student named Jack Miron from Bedford, New Hampshire. "
As I was browsing around, I found out that, holy mackerel, LOTS of people have launched stuff from their yard into space, usually by weather balloons.
Most often, it seems they do it for fun.  Jack Miron launched his for a science project.  A toy robot was launched for a music video.  A boy and his dad launched a toy train.  JP Aerospace launched a chair for a commercial – OK, that was a business launch for Toshiba!
These guys claim they launched the first 'Light Beer' into space.  Who knew?
What would you like to launch into space?  I said 'what' not 'who' come on now…
In the video, JP liked the idea of the chair – as long as no person was  aboard.  I started wondering, with the right equipment, lots more balloons and a thrill seeker – could that really work?  The hardest part would probably be coming back down.  Apparently, the chair broke apart upon reentry.  Not good for humans.
I'm sure I just scratched the surface of 'amateur spacers' here.  If you find any others, please post them in the comments.  The world is so beautiful from space and I just love that view.
If you figure it out and get all the right equipment, as well as permissions, this is certainly doable for most of us.  Just Ask Jack.
NOTES:
*Requires some equipment, knowledge and permission
*The boy who owns Stanley is only 4 years old (OK, his dad did the 'heavy lifting')
*Yeah, this will cost unless you can scrounge or get donations
Sources
*http://lightyears.blogs.cnn.com/2012/09/22/14-year-old-gets-photos-from-space/?hpt=hp_t3
*http://www.youtube.com/watch?v=_00eZtsuJ9M&feature=related
*http://www.youtube.com/watch?v=CzTxR9YoIQ8
*http://www.youtube.com/watch?v=5VdhZ2r6lvs&feature=related
*http://www.youtube.com/watch?v=_00eZtsuJ9M&feature=related
*http://www.youtube.com/watch?v=MQwLmGR6bPA