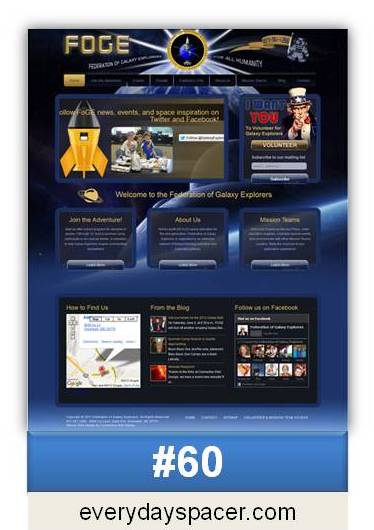 Thanks to Jeff Miller, I learned about FOGE (Federation of Galaxy Explorers) recently and FOGE looks like a great site for the Everyday Spacer.
Their basic objective is getting youths involved with space enough to be excited about participating in this community and this industry permanently as a career:
"The purpose of the Galaxy Explorers is to educate and inspire America's youth in space related science and engineering. The vision of the Galaxy Explorers organization is to expand the frontiers of science and technology to explore and develop space. The mission is to educate, guide, and prepare the next generation to accept the challenge of expanding humankind's presence in space." ~FOGE
Just browsing around the site, it seems there is a lot to do and that is definitely what we're all about!
They offer after school programs, summer camps, and workshops to kids 3rd grade to 12th grade and volunteer positions to others.
FOGE also has a Galaxy Ball, a Battle of the Rockets, Star Parties and something called 'out & about' which seems to offer other events.
A couple of things are happening soon – one is a deadline for the Battle of Rockets!  If you want to know more, you'd better head over to FOGE right away.
If this sounds like your kind of thing, this is definitely worth a visit.  At least sign up for the emails – they probably only send one a quarter from what I read.
NOTES:
*Internet access and interest
*Grades 3 thru 12
*They are open to donations and there is a moderate annual cost to being a member then some incidental costs periodically
Sources
*http://www.foge.org/