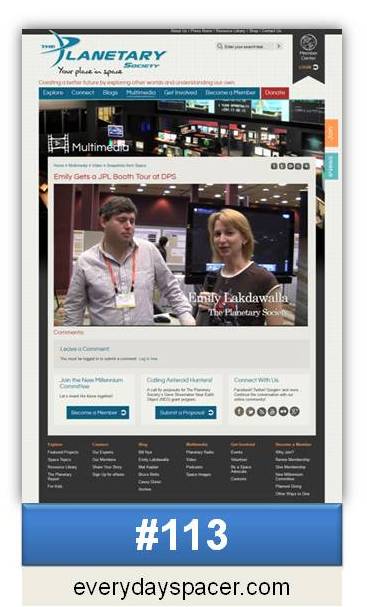 Sometimes you learn things in unusual ways.
The 'Booth Tour' video might be your first exposure to a couple of things you might not know about otherwise.
The headline "Emily Gets a JPL Booth Tour at DPS" gives us our first clue.  What is DPS and how can we attend?
"The Jet Propulsion Lab brought a big exhibit to the 44th annual meeting of the American Astronomical Society's Division for Planetary Sciences. The Lab's Doug Ellison plays tour guide and forces a reluctant Emily to try her hand at getting Curiosity safely to the surface of Mars." ~Multimedia Page
Apparently DPS is an annual event:  Division for Planetary Sciences, perhaps you'll see more about it here sometime.
Within the video, they mention a number of interesting things (see highlights below).  Most important to us are the things we can do.
Highlights of "Emily Gets a JPL Booth Tour at DPS"
First Stop
Demo:  Eyes on the Solar System – a browser based experience you can use to track pioneer vessels which have traveled the Solar System including 'predicted data that goes into the future and reconstructed data that goes into the past'.  There's a 3D option (glasses required) and even future predictions are available.
Second Stop
The Connect Game, where you figure out how to land the Mars Rover.  It has a neat sensor that treats your movements as you might a mouse.  You get to experience landing a rover pretty directly with this system as you hear the mission control instructions and move around in reply.
Third Stop
Examples of rover parts such as a sample of the parachute (built by hand), rope – climbing rope, known tech and modern tool to cut the rope with pyrotechnics.
Fourth Stop
A rubber & plastic model of Curiosity's wheel (the rover has titanium wheels) – shows scale – it's a very thin wheel.
So it's totally worth paying attention to interesting options like this.  It looks like we can do at least one of these from home:  Eyes on the Solar System
NOTES:
*Access to the internet
*Anyone can play
*No cost for most, the conference may be fee based
Sources
*http://www.planetary.org/multimedia/video/snapshots/20121017-emily_jpl_dps_booth_tour.html
*http://eyes.nasa.gov/
MY APOLOGIES I recently activated a 'captcha' plug-in. Each comment will now verify you are a visitor who wants to leave an actual comment. I saw hundreds of messages a day which had nothing to do with Everyday Spacer, or you. The task of sifting and sorting was keeping me from writing and from your real comments. Please reach out as you wish, I want to hear from you and be of service, as I am able. I would not use the 'captcha' program if I didn't have to.