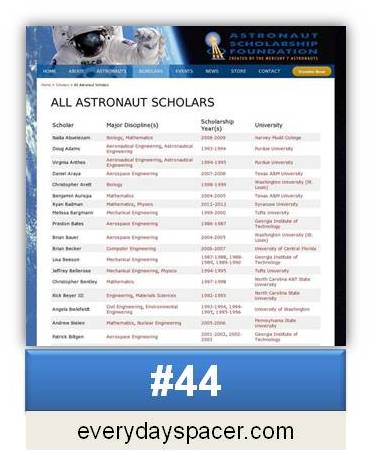 In 3 weeks, there is an auction held by a foundation created by the Mercury 7 Astronauts. If you are in Florida, USA, near the Kennedy Space Center, at the beginning of November, you might want to check it out.
Dubbed: 2012 Astronaut Autograph Show
"The time is near to blast off to Launch Headquarters at Kennedy Space Center (KSC), FL for a weekend getaway at the World's Largest Astronaut Autograph and Memorabilia Show! This family-friendly weekend features autograph sessions, astronaut photo opportunities, lectures from the legends, a unique space auction…"
With auctions, sales and other events, it's a great opportunity to immerse yourself in space stuff.
Of course, the Center has a Visitor's Complex that is also available at other times. What a great way to give and receive. Many of the upper level tickets have been sold, so consider putting this event on your calendar for next year.
This is the fifth annual event and "All proceeds from ticket sales benefit the Astronaut Scholarship Foundation, a 501(c)(3) nonprofit organization, who aids the United States in retaining its world leadership in science and technology by providing scholarships to exceptional college students pursuing degrees in these fields. Cost of the ticket packages, over fair market value, should be considered a charitable donation."
They've been awarding scholarships to a lot of folks for a long time. Perhaps that is the flip side to this; you could win a scholarship in a field of study to support space! The complete list is on their All Astronaut Scholars page.
They have other events on their 'Events' tab if you'd like to know more. The activities we have to participate in are very wide ranged in the space arena. If you think about it, you and I will have to take everything we want out there with us (some things we should certainly leave behind!).  There's a place for you in space, we just have to find it!
NOTES:
*Seems to be Open to the Public
*Family Friendly
*Ticket prices are Identified Inside, You May Incur Costs Getting to the Center
Sources
*http://astronautscholarship.org/programs-and-events/2012-autograph-show/