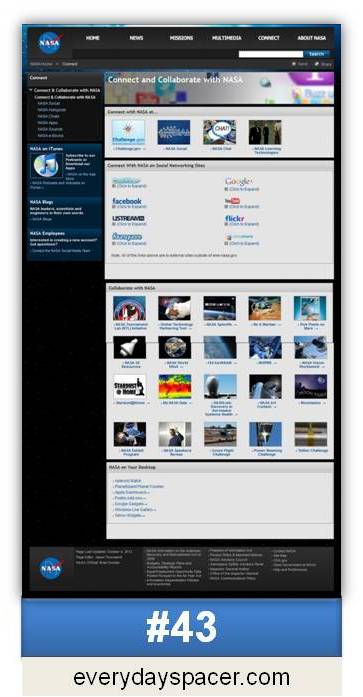 I keep bumping into 'NASA Social' so I thought it was time to figure out what it's all about.
Turns out that it is part of something called Connect & Collaborate with NASA.  That's made up of four parts, listed below:
Connect with NASA at…
Connect With NASA on Social Networking Sites
Collaborate with NASA
NASA on Your Desktop
NASA Social is part of 'Connect with NASA at…' and it sounds pretty interesting from what a participant wrote about it.  Apparently, you have a chance to be on hand for some event (like a launch) and receive special tours and information in a somewhat V.I.P. position.  They want visitors to blog, tweet, etc. about the experience while they are  participating.
Registration for the next event has passed so watch for future events there.
The Social Sites includes just what you thing it would – Twitter, Facebook, Google+, YouTube, that sort of thing.
The 'Collaborate With NASA' segment looks really interesting and kind of reminds me of the type of thing we found on SpaceHack.org.  There are 16 images which depict the projects some of which are NASA Speakers Bureau, Moon Tasks and NASA Spinoffs.  I'm familiar with several of these from being a volunteer and getting publications from them.
And finally, the last segment, which I nearly missed.  Here's the list from the 'NASA on Your Desktop' area:
› Asteroid Watch
› PlanetQuest Planet Counter
› Apple Dashboard→
› Firefox Add-ons→
› Google Gadgets→
› Windows Live Gallery→
› Yahoo Widgets→
I don't know much about these various programs.  It looks like there is a lot to choose from and a wide variety of options to suite many types of interests.  You may get more info about them over time and I'm always open to hearing from you about any great activities you are familiar with.
NOTES:
*Variety of options
*May be kid friendly
*Some could be about free – if you have a computer
Sources
*http://www.nasa.gov/connect/index.html