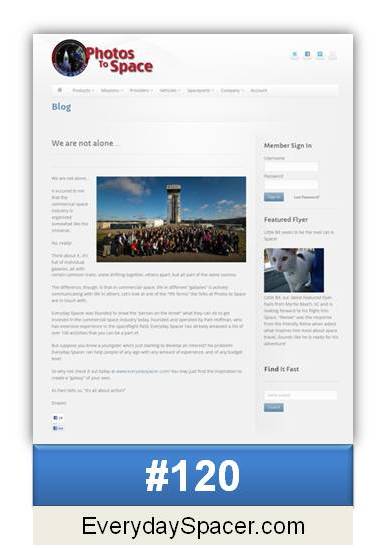 Photos to Space just posted an article about Everyday Spacer.com.  This gives us different and more exposure which helps our business which brings us more income and so on.
Every service woman and man knows how important they are to each other out on the field in times of need.
I think civilians sometimes forget how much we need each other though we have amazing and complex networks to provide ourselves with the necessities in life.
We'll probably get a lesson in that as we venture out beyond Earth's protection.
Thank you Steve, Joe  & the rest of the Photos to Space team!  Out there, we will rely on each others help, might as well start here & now!
NOTES:
*We'll need practically everything out there – all sorts of different people with various abilities
*Any age able to help
*May cost little or a lot
Sources
*http://www.photostospace.com/company-info/blog/we-are-not-alone/
~~~~~~~~~~~~~~~~~~~~~~~~~~~~~~~~~~~~~~~~~~~~~~~~~~~~~~~~~~~~~~~
MY APOLOGIES I recently activated a 'captcha' plug-in. Each comment will now verify you are a visitor who wants to leave an actual comment. I saw hundreds of messages a day which had nothing to do with Everyday Spacer, or you. The task of sifting and sorting was keeping me from writing and from your real comments. Please reach out as you wish, I want to hear from you and be of service, as I am able. I would not use the 'captcha' program if I didn't have to.