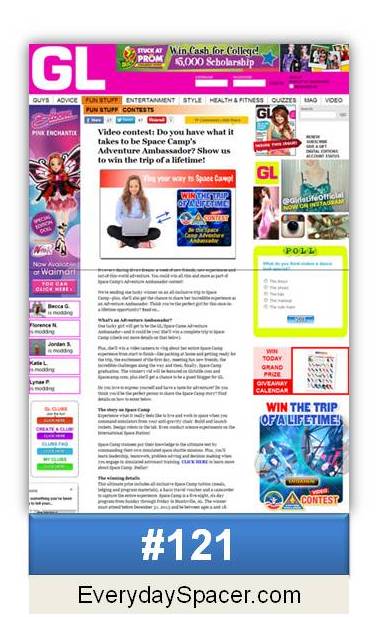 Know a girl between 9 and 18?  Let her know about the Girls Life Video Contest right away!
"This ultimate prize includes all-inclusive Space Camp tuition (meals, lodging and program materials), a $400 travel voucher and a camcorder to capture the entire experience. Space Camp is a five-night, six-day program from Sunday through Friday in Huntsville, AL. The winner must attend before December 31, 2013 and be between ages 9 and 18." ~Girls Life
Sounds like a great experience for a girl in your life?  Better go quick!  Entries needed by April 4th, 2013.
Follow all the instructions CAREFULLY.  The easiest way to eliminate entrants is due to lack of following directions.
And Remember…
It's all about action!
NOTES:
*Video or picture essay required to enter
*Girls 9-18
*Read all instructions carefully, enter by April 4th 2013
Sources
*http://www.girlslife.com/post/2013/03/08/Space-Camp-Adventure-Ambassador-Video-Contest-1.aspx
~~~~~~~~~~~~~~~~~~~~~~~~~~~~~~~~~~~~~~~~~~~~~~~~~~~~~~~~~~~~~~~
MY APOLOGIES I recently activated a 'captcha' plug-in. Each comment will now verify you are a visitor who wants to leave an actual comment. I saw hundreds of messages a day which had nothing to do with Everyday Spacer, or you. The task of sifting and sorting was keeping me from writing and from your real comments. Please reach out as you wish, I want to hear from you and be of service, as I am able. I would not use the 'captcha' program if I didn't have to.