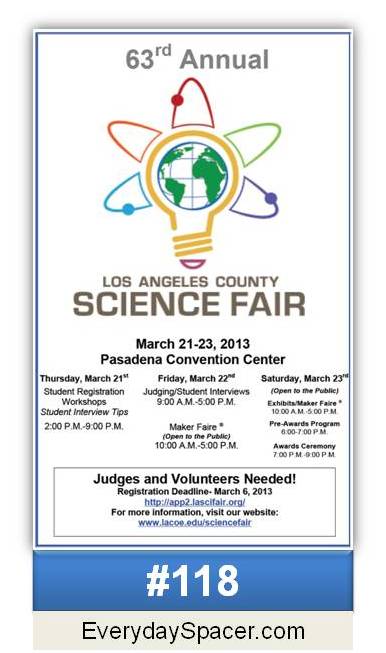 URGENT!  The LA County Science Fair Slated to be Cancelled
Info of this challenge swam up innocently on my news feed on Facebook last night, and pointed me to a tumblr post by  "…a Californian geek-type on the female side of things…"
And it was alarming; though a bit 'drama queen,' her news presents a very real threat to our future as a nation.
Over 4,000 students could lose a shot at their annual Science Fair this year and who knows how many next year – if the event(s) get cancelled.
"Over 4,000 students have been working diligently since July to compete in this science fair. They are not able to compete in any other counties and will not be able to compete regionally or nationally this year or next if the LA Science Fair is cancelled. One of my best friends is one of these students. He's been working towards his culminating project since he was 13 and building microbial fuel cells; he's now a high school senior and may graduate having never been able to compete with his final project." ~Dysprosium Lanthanum Nitrogen
Extrapolate this loss into the future with the help of Jason G. Goldman's article The LA County Science Fair Needs Help.  Even if only a fraction of these young people actually go on to careers in science engineering, can we afford to lose their contributions?
I say 'We cannot' and I urge you to take a look at this issue right now.
It's pretty straight forward – give your time or money if you can.  Spread the word in any case.
Excerpt from Jason's article on Scientific American:
"Access to scientific information – or inaccess to scientific information – has real, tangible consequences. The relationship that children and adolescents have to science will likely stick with them for the rest of their adult lives.

"The LA County Science Fair has a rich history. By 2010, the fair grew so big that it was moved to a larger space – the Pasadena Convention Center. That year, there were 1500 projects, and projects presented by young women outnumbered those presented by young men by thirty percent!

"On the surface, this is great news. But all of this is a preamble to the following.

"I woke up this morning to an alarming-if-unsurprising email from Dean Gilbert, President of the Los Angeles County Science Fair Committee. This year's science fair, scheduled for next month, may not even happen due to fundraising shortfalls, and as a result, a 2014 science fair has not yet been scheduled.

"Wednesday night at the monthly Science Fair Advisory Board meeting, I stated that as of right now, having the 2013 Los Angeles County Science Fair is in serious question and that there will be no Science Fair scheduled for 2014. This is because we are $70,000 short of our current year fundraising goal and still need another 150 judges.

"If you're in the LA area, consider registering to become a judge. I have.

"If you'd like to support the LA Count Science Fair financially, click on the "Donate" button here. As they say, every dollar counts."
This is the Los Angeles County Science Fair – if that one goes, which ones go next?  And where does our future go?
NOTES:
*Anyone can help spread the word – please do it now
*Age is not a factor if you are able
*It can be whatever you'd like to spend – a little or a lot of your time, same with money
Sources
*http://geeklearnstorun.tumblr.com/post/43526781458/science-needs-your-help
*http://www.lascifair.org/donorspartners/donate-now/
*http://www.lascifair.org/
*http://blogs.scientificamerican.com/thoughtful-animal/2013/02/15/the-la-county-science-fair-needs-help/
MY APOLOGIES I recently activated a 'captcha' plug-in. Each comment will now verify you are a visitor who wants to leave an actual comment. I saw hundreds of messages a day which had nothing to do with Everyday Spacer, or you. The task of sifting and sorting was keeping me from writing and from your real comments. Please reach out as you wish, I want to hear from you and be of service, as I am able. I would not use the 'captcha' program if I didn't have to.