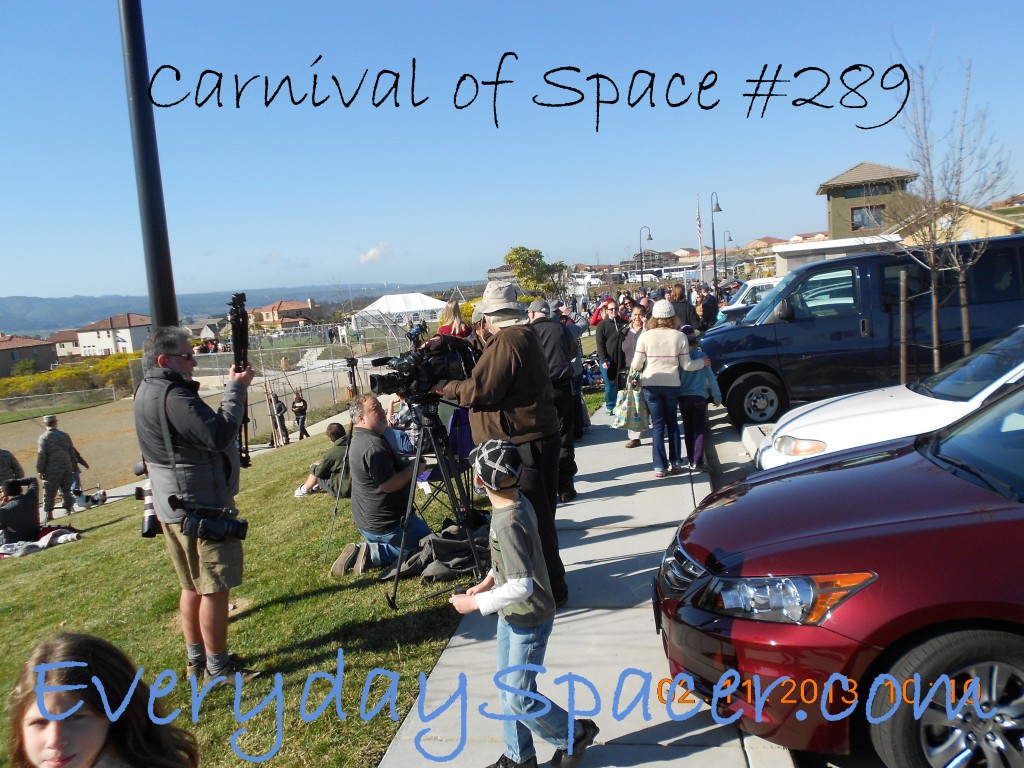 Welcome back to Carnival of Space, hosted a second time by Everyday Spacer.
Recent adventures took us to Vandenberg Air Force Base to watch the launch of LandSat, the payload aboard an Atlas V.  The launch was flawless, as far as we could tell, with beautiful weather and a crowd of spacer friends (some pictured) so we decided to share a scene from the Launch Party, a real 'Carnival of Space.'
We'll update this 'Carnival' as the articles come in.  Do stop back at least once before the next CoS to read the rest.
This week's roundup of articles takes us from inside NASA to Mars and beyond.  Let's see what our gang is up to…
Curiosity Uses Drill to Collect First Sample From Inside Martian Bedrock
Scott Anderson | The Meridiani Journal
The Curiosity rover has now drilled its second hole in a flat piece of Martian bedrock and obtained a sample for analysis by its on-board laboratory. This is the first time ever that such a drilling has been done on Mars.
A few days ago…
How Sequestration Will Impact NASA Programs
Mark Whittington | Yahoo News
What sequestration is
According to Idea Money Watch, the sequestration threat developed out of the failure of the Joint Select Committee on Deficit Reduction, established by the Budget Control Act of 2011, to come up with a deficit reduction program. Under the act, automatic across-the-board cuts to both domestic and defense spending will take place on March 1 unless Congress and the president are able to agree on a deficit reduction package. An impasse has developed between…
Former NASA Chief Griffin Critiques Obama Commercial Space, Touts Lunar Option
Mark Whittington | Examiner.com
Maintaining a lunar base would be far more challenging than the ISS. Griffin's view is that sending cargo and crew to and from a lunar base would support a larger commercial space sector. Commercial firms could also offer other services, including housing, consumables, and power to a lunar base.
Israeli Team Shoots for the Moon with the Help of a New Corporate Sponsor
Mark Whittington | Yahoo News
According to the Times of Israel, Space IL, which is building a robot designed to land on the lunar surface, has acquire a corporate sponsor in the form of Bezeq, described as Israel's largest communications company. Bezeq will provide personnel, infrastructure, and money toward the team's goal of landing a robotic probe on the moon by 2015. Space IL, a nonprofit group, is relying on…
NASA's Garver Insists that American Commitment to Space Exploration Undiminished
Mark Whittington | Yahoo News
Space.com reports that NASA Deputy Administrator Lori Garver, at a space-entrepreneurship forum organized by Stanford University's Institute for Economic Policy Research, insisted that the space agency's commitment to space exploration is undiminished.
Poll Finds Overwelming Support for Mars Exploration, Doubling NASA Spending
Mark Whittington | Examiner.com
ExploreMars.org, in a press release dated Feb 11, 2013, revealed the results of a poll taken of 1,101 adult Americans in early February by the communications firm Philips and Company. The poll measured the level of support by the American public for space exploration, especially of Mars, in the wake of the success of the Mars Curiosity rover.
Among the findings:
71 percent believe Americans will be on Mars by…
Public Invited to Name Two Moons of Pluto
Mark Whittington | Yahoo News
According to a story by NBC News, scientists are soliciting the public for suggestions for names of the two unnamed known moons of Pluto, currently designated as P4 and P5, through the Pluto Rocks website.
Exotic Supernovas In Our Own Galactic Backyard
Laura Lopez | Chandra X-Ray Observatory Blog
Exotic Supernovas in our own Galactic Backyard
A Meteor hit Russia with the force of 20 Hiroshima bombs and injured more than one thousand people
Brian Wang | Next Big Future
A Meteor hit Russia with the force of 20 Hiroshima bombs and injured more than one thousand people
Planetary Resources Describes New designs and Advances for Making Satellite Imaging Ten Times Cheaper and Three Times Better and Plans for Asteroid Mining.
Brian Wang | Next Big Future
Planetary Resources describes new designs and advances for making satellite Imaging ten times cheaper and three times better and plans for asteroid mining. For Asteroid mining they plan to turn platinum from asteroids into a metal foam and shape it to fall through the atmosphere and land at about 60 mph
The Earth is a Planet: Why We Explore Space
Bill Dunford | The Planetary Society
Why spend time and money on space exploration when we have so many problems here at home?
Golden Spike Is Sending Nations and People To The Moon, Join In!
Ray Sanders | Dear Astronomer
Golden Spike to Crowdsource $240,000 for Lunar Marketing Campaign
Airburst Explained: NASA Addresses the Russian Meteor Explosion
Nancy Atkinson | Universe Today
Experts from NASA discussed their conclusions about the meteor that exploded over Russia last Friday.
The dance of Jupiter and the Moon
Peter Lake | AstroSwanny's AARTscope Blog
Astroswanny captures the occultation of Jupiter by the Moon on Feb 18th in this great video/blog post.
Visit, like, share any and all of these that appeal to you and that you want to support.  It's all about action!