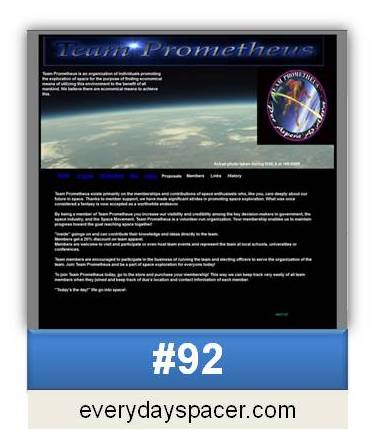 This is an awesome way to participate in the exploration of space!  Just read the Membership page.  They don't just want the bucks (which are modest) they want active members!
I recently received an invitation from them through their Facebook Page:  Team Prometheus  I'm delighted to say, they are perfect for the Everyday Spacer!  You can do as much or as little as you want with this group.  They are very smart to give you great options.
"Team Prometheus is an organization of individuals promoting the exploration of space for the purpose of finding economical means of utilizing this environment to the benefit of all mankind. We believe there are economical means to achieve this." ~Team Prometheus
If you can't do a lot, they offer you a way to make a contribution of any size (see also their Home page)
They have almost 2000 'Likes' on their Facebook page, you could do that and keep getting their updates that way if you'd like.
Their Projects look pretty interesting with weather balloons, sounding rockets, various electronic devices and so on.  I'm still figuring them out myself.
The wiki is under development and the forum seems to hold some interesting potential.  I'll probably go into that another time.
Team Prometheus is definitely worth a look.  Remember, No Bucks, No Buck Rodgers!
See you there!
NOTES:
*Various levels to participate
*May or may not be kid friendly, it's hard to tell
*There is some cost if you become a member, it's pretty modest though
Sources
*https://www.facebook.com/pages/Team-Prometheus/213171526223?ref=ts&fref=ts
*http://www.teamprometheus.org/
MY APOLOGIES I recently activated a 'captcha' plug-in. Each comment will now verify you are a visitor who wants to leave an actual comment. I saw hundreds of messages a day which had nothing to do with Everyday Spacer, or you. The task of sifting and sorting was keeping me from writing and from your real comments. Please reach out as you wish, I want to hear from you and be of service, as I am able. I would not use the 'captcha' program if I didn't have to.