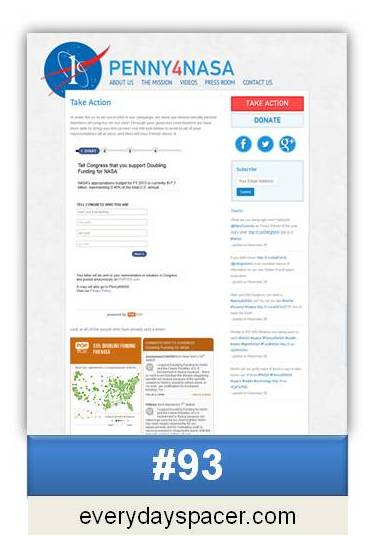 As far as 'return on investment' goes, our (very, very little of) tax dollars going to NASA bring back to the world amazing and important benefits.
Here's a very simple way to help others understand the importance of our efforts to grow beyond Earth's boundaries:  Spread the Word
New videos were recently released to help with this…
" Spanning generations of silver screen and television portrayals of humanity's exploration of space, the accomplished actors talk about how science fiction has become science fact, resulting in new commercial products and services that are tangible returns on investments in space technology. Much of the technology we rely on daily was developed by NASA for space exploration and then adapted or enhanced for use here on Earth. This includes many technologies used in schools, homes, cars, computers and American industry." ~NASA Press Release
When I went to look at the new ones, I found more:
" The new videos are the latest in a series of celebrity educational videos aimed at increasing public awareness of the return on investment in space technology while encouraging the next generation of explorers to pursue careers in science, technology, education and mathematics." ~Ibid.
It's so simple to add a video to Facebook and other social media sites.  Why not add one or more to your profiles, pages or websites, wherever they may be?  who knows how it might help?
If you feel so moved, go ahead and petition for more NASA funding at Penny4NASA that's how I learned about these videos – they posted the info on Facebook.
If our space program (which gets less than one penny for every tax dollar) has returned such amazing benefits, imagine what commercial space efforts could return!
NOTES:
*Any communication might help, internet access is very powerful
*Anyone, any age can help
*No cost to share the info
Sources
*http://www.nasa.gov/home/hqnews/2012/nov/HQ_12-400_Spinoff_PSA_Space_Stars.html
*http://www.penny4nasa.org/take-action/
MY APOLOGIES I recently activated a 'captcha' plug-in. Each comment will now verify you are a visitor who wants to leave an actual comment. I saw hundreds of messages a day which had nothing to do with Everyday Spacer, or you. The task of sifting and sorting was keeping me from writing and from your real comments. Please reach out as you wish, I want to hear from you and be of service, as I am able. I would not use the 'captcha' program if I didn't have to.