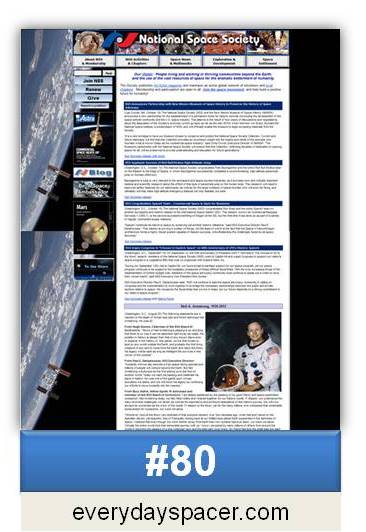 There are several interesting and important organizations out there.  We already brushed up against this one each time we mentioned the OASIS events calendar and the post on attending events.
NSS, or National Space Society, is the result of a merger between The National Space Institute and the L5 Society.  There are many levels and many ways to get involved in this organization.  You can be a regular member and get updates from the organization.  There is an annual conference held every year on May in various cities on the planet, primarily the North American continent.
L5 Society came with a number of local chapters and you could create one if you don't find one near you.
You can run an ISDC (International Space Development Conference) like I did the 14th annual ISDC in Cleveland, Ohio.  Be sure you have a large, dedicated team behind you and realize that only 10% of the group will actually do anything.
And I recently noticed that they have something called Space Ambassadors which is a Speakers Bureau of sorts.  That is somewhat new I think.
"The mission of the space ambassador program is to communicate the benefits of space exploration to our daily lives and to inspire and educate young people and the public to pursue careers in science, engineering, and mathematics.

"We wish to inspire a new generation of leaders to take an active role in helping to create the future they wish to see come to pass.

"Space ambassadors will achieve this goal over the course of the program by scheduling and conducting speeches and presentations where ever they see fit, particularly in schools and universities. The presentations may be constructed in any way you see fit and may include all or none of the tools available on this website. The passion you put into the presentation is the key ingredient necessary to be successful." ~Ibid.
NOTES:
*Anyone can join at the National or Chapter level
*Might be more appropriate for adults
*A membership fee is involved
Sources
*http://www.nss.org/
*http://www.spaceambassadors.com/