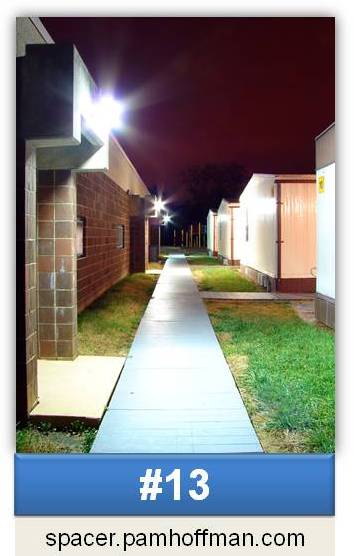 I know this may not seem like an important topic.  I assure you, it affects security as much as our view of the heavens which connects to our ancestors and our heritage.  I'm learning it affects our health too now!
"Light pollution competes with starlight in the night sky for urban residents, interferes with astronomical observatories, and, like any other form of pollution, disrupts ecosystems and has adverse health effects." ~Wikipedia
I found the picture below on Facebook last month.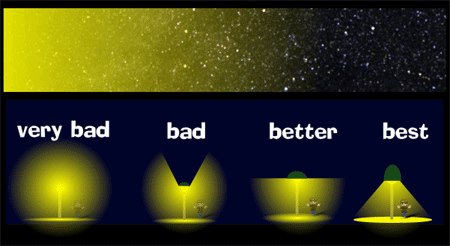 There is a lot of information in this simple diagram, I even found something new I hadn't seen last time.  There is a figure of a person under all the lampposts.  I knew security was compromised with lighting – this pictures shows how it helps the unsavory and harms the law-abiding.
Across the top is a band of stars and what you can see with the various light signatures.  How much energy do you think is wasted when light radiates into space?  That alone can be an excellent reason for better lighting.  The various light signatures demonstrate where light from our various fixtures radiates and how that affects visibility.
Back to the figure.  How hard is it to see someone hiding behind light fixtures even?  Good for them, lousy for us.
Now to what I learned writing this blog post, from an excellent article by Verlyn Klinkenborg, National Geographic:
"…light pollution—whose effects scientists are only now beginning to study. Light pollution is largely the result of bad lighting design, which allows artificial light to shine outward and upward into the sky, where it's not wanted, instead of focusing it downward, where it is. Ill-designed lighting washes out the darkness of night and radically alters the light levels—and light rhythms—to which many forms of life, including ourselves, have adapted. Wherever human light spills into the natural world, some aspect of life—migration, reproduction, feeding—is affected."
There may be a link to cancer because of too much light at night.
Better lighting is win-win-win!  So why don't we have better lighting?
In Flagstaff, Arizona, there are laws protecting the night sky for the Lowell Observatory, an important institution where Hubble discovered that the universe was bigger than we thought.  It's wonderful to be somewhere that demonstrates "Of all the pollutions we face, light pollution is perhaps the most easily remedied." ~Light Pollution article, National Geographic
What does it take to improve security and healthy night darkness and enhance the beauty of the night sky in your area?  I remember being blinded by lights from a parking lot (Irvine Spectrum for those in the know!).  These lights were on poles very high off the ground and one particular spot, driving Eastbound was just awful.  The highway there was raised so those lights were right in your eyes.  Something happened though because driving through there later the lights had been adjusted and the light was no longer blinding.
Sometimes, poor lighting design can be downright dangerous!
What about your area?  Let's go find out.
Years ago, in an astronomy meeting, I learned about
IDA
(
International Dark -Sky Association
) for the first time.  The founder came to speak to us.  He began by saying that he used to be an amateur astronomer then he became an evangelist.  He was advocating for dark skies.
I started noticing how bad the lights were and that they were a security risk at the same time.  I learned about light fixtures for around the home that could be off until triggered by movement (somewhat new to retail consumers at that time).  Imagine how someone might react if the lights actually went on while they were skulking about!  They would be momentarily blinded certainly.  Systems like this make much more sense to me.
On the IDA site, they have a nice Resources page with News and Publications, Materials and Outreach, Guides to Lighting and Light Pollution, Events and more.
Why not take a look?  Something might jump out at you and put you right in the middle of a great project.
I'm doing that today!
NOTES:
*Awareness
*Age of understanding
*No cost, to being an Evangelist
Sources
*http://en.wikipedia.org/wiki/Light_pollution
*http://www.darksky.org/
*http://ngm.nationalgeographic.com/2008/11/light-pollution/klinkenborg-text
*http://www.njaa.org/light.html
*http://www.lowell.edu/
*http://en.wikipedia.org/wiki/Edwin_Hubble#Discoveries
MATERIAL CONNECTION DISCLOSURE: You should assume that the author has an affiliate relationship and/or another material connection to the providers of goods and services mentioned in this post and may be compensated when you purchase from a provider. You should always perform due diligence before buying goods or services from anyone via the Internet or offline.