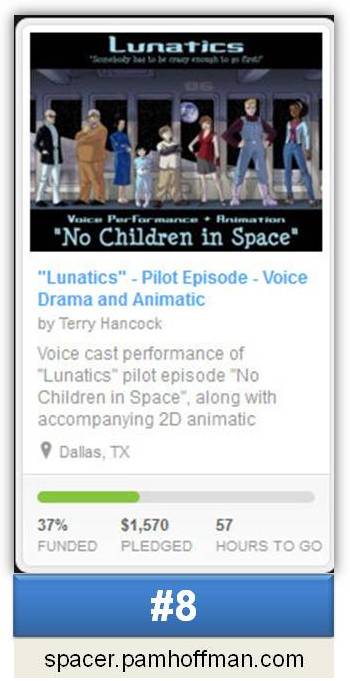 There are new tools appearing all the time now and it's easier than ever to do certain things, like invest in spacer projects.
Rosalyn Hunter and Terry Hancock need help today!  If you are at all ready, willing and able, please, take a look at this worthy project.  It's already partially funded and the deadline is Friday.
From Terry:

Lunatics is (or will be with your help) a free-culture fan-funded science-fiction animated web series about lunar settlement. It tells the story of the first permanent colonists on the Moon. This project is ground-breaking in a lot of different ways, and I'll hope you'll want to learn more about it — at http://lunatics.tv/

We had a successful Kickstarter campaign back in December that paid for pre-production work. Right now, we are reaching the end of a Kickstarter to fund the voice and audio production work:

http://www.kickstarter.com/projects/2144275086/lunatics-pilot-episode-voice-drama-and-animatic

After producing that and showing you what we can do, we're hoping it'll be easier to raise the money for the fully 3D-animated production that we have planned.
If "Lunatics" isn't right for you, consider other projects out there.
Independent projects like this can be open to many more investors because they are small and accept smaller donations.  Terry and Rosalyn are asking as little as $1 which most of us can find in the cushions of our sofa.
If investing in spacer projects is more your speed, by all means, do some of that today!
NOTES:
*Investment
*Age Restricted to Earners
*Cost Determined by Investor