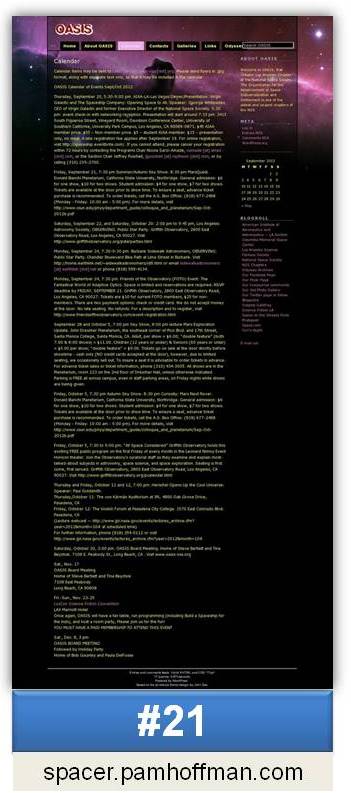 We've covered a lot of territory so far and it's all been fairly broad in scope.  I'd like to delve deeper into all of it.  That is, after all, where things get interesting.
I've been a member of a number of spacer and astronomy and science organizations over time.  I just found out about some really great opportunities through one of them.  I'll go into a few of them here – you'll want to visit the OASIS website to see the rest, these happen to be urgent since they are happening this week!
Virgin Galactic presentation:  Opening Space to all, Los Angeles, CA
MarsQuest Planetarium Show, Northridge, CA
Public Star Party hosted by Burbank Sidewalk Astronomers, Burbank, CA
The Fantastic World of Adaptive Optics, Griffith Observatory, Los Angeles, CA
Space is usually limited for these events so please head over right away if anything sounds the least bit interesting.
See also NOTES below.
OASIS is a chapter of NSS:  the National Space Society
NOTES:
*Activities in Southern California
*Mostly more adult friendly though well behaved children may be able to go
*There is usually a cost associated with most of these activities, the
Star Parties tend to be open and free, please call to confirm
Sources
*http://www.oasis-nss.org/wordpress/?page_id=3
*http://www.nss.org/