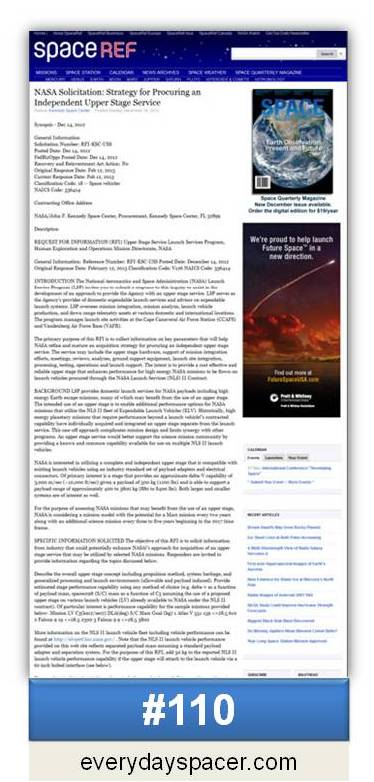 "INTRODUCTION The National Aeronautics and Space Administration (NASA) Launch Service Program (LSP) invites you to submit a response to this inquiry to assist in the development of an approach to provide the Agency with an upper stage service. LSP serves as the Agency's provider of domestic expendable launch services and advisor on expendable launch systems. LSP oversees mission integration, mission analysis, launch vehicle production, and down range telemetry assets at various domestic and international locations. The program manages launch site activities at the Cape Canaveral Air Force Station (CCAFS) and Vandenberg Air Force Base (VAFB)." ~SpaceRef
Here's your chance to contribute to NASA with information input.
"INFORMATION SOLICITED The objective of this RFI is to solicit information from industry that could potentially enhance NASA!'s approach for acquisition of an upper stage service that may be utilized by selected NASA missions. Responders are invited to provide information regarding the topics discussed below." ~Ibid.
From upper stage concept and controls to electrical/mechanical interfaces to costs schedules, they are looking for a lot of input.  Near the end of the RFI is the info to contact them.
You should probably know too that "Solicitation for Information and Planning Purposes…does not constitute a Request for Proposal, Invitation for Bid, or Request for Quotation, and it is not to be construed as a commitment by the Government to enter into a contract. Moreover, the Government will not pay for the information submitted in response to this RFI, nor will the Government reimburse a Respondent for costs incurred to prepare responses to this RFI." ~Ibid.
I went looking for original sources, yet to find.
Take a look and if anything is in your field of expertise, by all means, consider adding your two cents worth.
NOTES:
*Some expertise may be required
*No known age restrictions
*No known costs
Sources
*http://www.spaceref.com/news/viewsr.html?pid=42887
MY APOLOGIES I recently activated a 'captcha' plug-in. Each comment will now verify you are a visitor who wants to leave an actual comment. I saw hundreds of messages a day which had nothing to do with Everyday Spacer, or you. The task of sifting and sorting was keeping me from writing and from your real comments. Please reach out as you wish, I want to hear from you and be of service, as I am able. I would not use the 'captcha' program if I didn't have to.