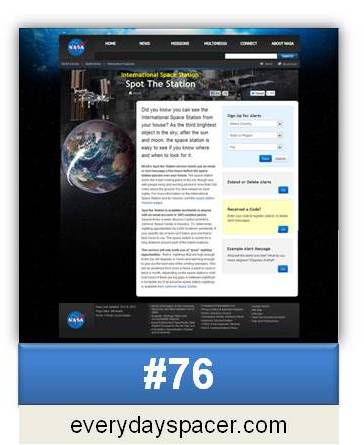 You know about Heaven's Above from before.  I just found a site that notifies you when the ISS – International Space Station is overhead.
It's pretty easy to sign up.  You do need to confirm.
It lasts a year and you see that notice when you confirm.
I already got my first email from them – apparently, there's a flyby really early on the 12th in our area.  I usually look for satellites in the evenings.  You won't really see them deep in the night – just before sunrise or after sunset.
"NASA's Spot the Station service sends you an email or text message a few hours before the space station passes over your house. The space station looks like a fast-moving plane in the sky, though one with people living and working aboard it more than 200 miles above the ground. It is best viewed on clear nights. For more information on the International Space Station and its mission, visit the space station mission pages." ~Spot the Station
If you have a mobile device, you could get a message wherever you are.  There are a few other things you can check out there – be sure to visit the 'example alert message' area for a nice explanation and diagram of what the message means.
The only drawback is that the ISS is the only satellite you receive a notification of.  The next time a spaceship docks or undocks with the Station, you'd get a nice show.
NOTES:
*Anyone, anywhere in the world can register
*Open to all ages
*No cost
Sources
*http://spotthestation.nasa.gov/index.cfm