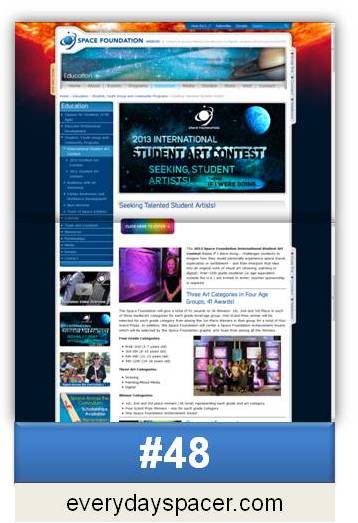 Do you know a talented artist between 3 and 18 years old?
Why not help them enter a contest?
The Space Foundation has issued an invitation for their 2013 International Art Contest to PreK-12th grade students (or age equivalent outside the U.S.) on their website.
There are 3 categories…
    Drawing
    Painting/Mixed Media
    Digital
There is some time still so you want to take advantage of that and enter before the deadline:  Deadline to enter is Jan. 18, 2013. No entries will be accepted after that date.
Be sure to follow all the rules to the best of your ability.  The easiest entries to eliminate are the ones that don't follow the rules, especially if there are a lot of entries!
You will be rewarded, as described…
Prizes and Exposure!

    All Winners receive a prize, a ribbon and a certificate
    Grand Prize and Space Foundation Achievement Award Winners receive additional prizes
    All entries will be displayed in the online Space Foundation art gallery on Artsonia.com and Winners will be showcased on the Space Foundation website
    All Winners recieve international exposure – digital images of past Winners' artwork have been sent to the International Space Station and some have even been "bounced" off the Moon
Oh and be sure to stay in theme:  If I Were Going…
Read all about it on the Space Foundation site!
Have fun and let us know if you win!  We'll write a post for you here on Everyday Spacer if you do.
NOTES:
*Talent in Drawing, Painting/Mixed Media, or Digital
*Designed for kids
*No cost to enter
Sources
* http://www.spacefoundation.org/education/student-youth-group-and-community-programs/international-student-art-contes