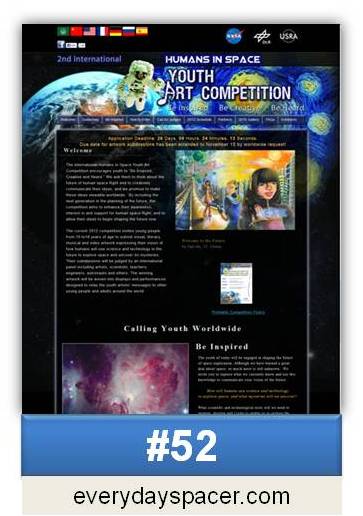 I have some news for you, and it's about as fresh as you can get!
I've been 'Facebook Friends' with Robert Brand, who is from Sydney, New South Wales, for a little while now.  He recently had a wonderful idea and started to build it.  I also learned about another Student Art Contest from him and there's still time to create and enter!
I'll give this to you straight since Facebook friends are basically private and you won't get this any other way – yet.
"I have started Project Hermes and I have one Apollo astronaut agreeing to send a painting of his to the moon! I hope to also get a painting by a second Apollo astronaut. Lucy West-Binnall and one other patron will also contribute a painting. Lucy will be the Project Hermes spokesperson. I have 2 rides to the moon planned and all should be okay for a ride with one of the Google Lunar X-prize teams if these fall through. Spacefest will host a painting competition for adults for a single 20cm x 20cm painting to go to the moon.
"I have expectations that we will have books, poems, digital art and much more all rocketing to the moon – all transmitted back from space on the way to the moon and if the landing is successful, then from the moon's surface.
"I expect that the paintings and other art will do a tour of the world before embarking on a one way trip to the moon.
"I am very excited about bring new interest in space to "non-space" people and bring art to the space world that tends to be so technical and "sterile".
"Most of the art will be from kids with just the Patrons work getting a free ride. Just a few adults. The flight is expected in 2014 and it is really all about kids. Project Hermes is all about inspiring kids that do not have a technical interest at this stage, but can draw, paint or write.
"Has anyone got any interest in being on the team to make this a reality? I expect HAM radio to do the relays from space and the moon. There is plenty to do, but the idea is to find groups that will do them for us. eg kids art competitions, etc.
"Also, this project is not secret at this stage, but the website launch is mid January 2012 – not the rocket!" ~Robert Brand
I think Robert meant 'January 2013′ though I asked him through the comments so I'll know when he writes his reply.  Several people stepped right up to answer his call to action.  I was one of them.  So, we'll see if we get some action items from Robert soon and I'll be sure to relay that info as well.
The Art Contest
The 2nd International Humans in Space Youth Art Competition is open to youths between 10 and 18 years old and "…encourages youth to "Be Inspired, Creative and Heard." We ask them to think about the future of human space flight and to creatively communicate their ideas, and we promise to make these ideas viewable worldwide."
This contest has a potentially broader appeal as it is open to visual, literary, musical and video works.
With just 5 weeks left to enter, I encourage you to hop on over to the Humans in Space contest right away and be sure to follow the directions completely to avoid elimination.
Good Luck and Go For It!
NOTES:
*Due date for artwork submissions has been extended to November 15 [2012] by worldwide request!  Includes visual, literary, musical and video works.
*Open to youths ages 10 to 18, anywhere in the world
*Upon searching, no cost information was found, this may be free to enter
Sources
*http://www.lpi.usra.edu/humansinspaceart/