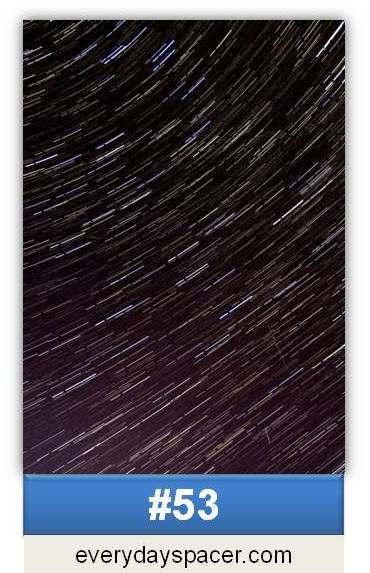 About once a month, there is an official 'meteor shower' and this month, the Orionid meteor shower peaks between October 20th and 21st (tonight). This is a good time to have one because the moon, though waxing (increasing in brightness & appearance), will be setting before the peak of this meteor shower.
"The Orionid meteor shower will peak about 12:00 a.m. PST Sunday, although there may be meteor sightings before and after…" ~Karen Randall
A meteor shower is "…a celestial event in which a number of meteors are observed to radiate from one point in the night sky. These meteors are caused by streams of cosmic debris called meteoroids entering Earth's atmosphere at extremely high speeds on parallel trajectories. Most meteors are smaller than a grain of sand, so almost all of them disintegrate and never hit the Earth's surface. Intense or unusual meteor showers are known as meteor outbursts and meteor storms, which may produce greater than 1,000 meteors an hour.[1]" ~Wiki
The meteor showers are the remains of comets that visited our system at one time or another.  The Orionids are the remains of Comet Haley…
"The Orionid meteor shower appears annually as the planet moves through an area of space that is littered with ancient remnants from Halley's Comet. The debris from the famed comet, which last visited Earth in 1986, helps produce up to 25 meteors per hour during the Orionid meteor shower."
~Light Years
There are some fun activity ideas on the 'Light Years' blog if you'd like to participate in a discussion with NASA Astronomer Mitzi Adams or learn some photography techniques, by all means go see how to do that.
If you'd like to look for meteor showers every month, there are a number of good resources like EarthSky, Cute Calendar and Sea and Sky.  The Sea and Sky site includes many other things as well.
You hear about a few of Meteor Showers in the news because they are typically the more exciting ones with more, or brighter (or both) meteors in the shower.
Just like stargazing, be sure to prepare yourself. October in most places gets pretty cool in the daytime, and worse at night.
Though it is unusually cloudy in our area today, perhaps it will clear out tonight.
NOTES:
*All you need to do is look up, in the right direction, wherever you are!
*Kid friendly
*Just go outside
Sources
*http://lightyears.blogs.cnn.com/2012/10/19/how-to-watch-the-orionid-meteor-shower/
*http://en.wikipedia.org/wiki/Meteor_shower
*http://earthsky.org/astronomy-essentials/earthskys-meteor-shower-guide
*http://www.cute-calendar.com/category/meteor-showers.html << *http://www.seasky.org/astronomy/astronomy-calendar-2013.html
*http://www.flickr.com/photos/juniorvelo/4111849751/