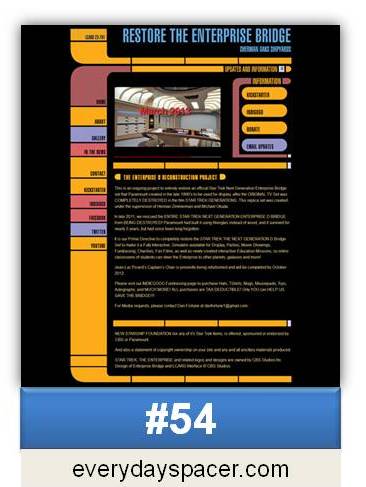 Are you a Trek Fan?  You could help 'save' a Trek Bridge.
An interesting team has gathered together to save and restore the 'Bridge' of the Starship Enterprise as seen in "Star Trek the Next Generation."
"This is an ongoing project to entirely restore an official Star Trek Next Generation Enterprise Bridge set that Paramount created in the late 1990′s to be used for display, after the ORIGINAL TV Set was COMPLETELY DESTROYED in the film STAR TREK:GENERATIONS. This replica set was created under the supervision of Herman Zimmerman and Michael Okuda." ~New Starship
Huston Huddleston is your rabble rouser.  He saved the pieces of the set late 2011.  His idea is to get the set fully functional and ready for events of various types…
"It is our Prime Directive to completely restore the STAR TREK THE NEXT GENERATION D Bridge Set to make it a Fully Interactive, Simulator available for Display, Parties, Movie Showings, Fundraising, Charities, Fan Films, as well as newly created interactive Education Missions, so entire classrooms of students can steer the Enterprise to other planets, galaxies and more!" ~Ibid.
If you want to Boldly Go Where No one Has Gone Before on this set, you could be one of the first to party in the completed Bridge late next year when it's refurbished.  Start by visiting the New Starship.com site – it's pretty cool
NOTES:
*Give if you can, spread the word otherwise
*Not limited by age
*Kickstarter and Indiegogo campaigns going on now
Sources
*http://newstarship.com/