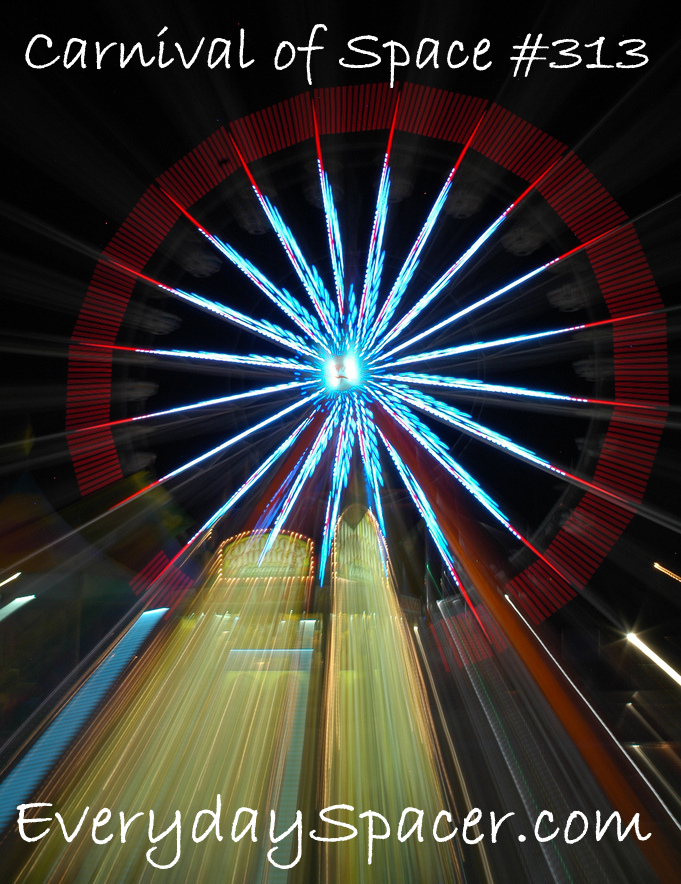 Welcome to Carnival of Space #313!
Every week, a different blogger hosts a variety of articles submitted by other 'carnival' members to bring you a symphony of voices in the spacer blogosphere.
EverydaySpacer.com is the host this week.
For you history buffs out there, we learned about the source of CoS from Steve Nerlich's Carnival recently:
"The Carnival of Space was created in 2007 by Henry Cate of the Homeschooling Blog and who then gave it to Fraser Cain of Universe Today and now it is continued by Brian Wang of Next Big Future. If you'd like to be a host for the carnival—or contribute to it, why not send Brian an email at blwang at gmail.com."
This time, we're sharing with you the following articles…
Another Alliance!
Pam Hoffman | Everyday Spacer
Are you ready to get serious about creating our spacefaring future? Perhaps you'd like to join us, in this article, we share how we can help…
X-Ray Whispers In A Noisy Pub
Katja Poppenhaeger | Chandra X-Ray Observatory
We are delighted to welcome Katja Poppenhaeger as a guest blogger today. Katja is the first author of a new paper describing the first exoplanet transit ever seen in X-rays, the subject of our latest press release. Katja studied physics at Frankfurt University in Germany, followed by a PhD in astrophysics at Hamburg Observatory in Germany, before coming to Harvard-Smithsonian Center for Astrophysics (CfA) as a postdoc. She will be…
Proved: Supernovae cause Cosmic Rays
Allen Versfeld | Urban Astronomer

NASA's Fermi gamma-ray telescope has confirmed what astronomers have suspected for decades: That cosmic rays come from supernovae.
Melted Moon
Dr. Paul Spudis | The Once and Future Moon

Melted Moon by Dr. Paul Spudis discusses impact melts on the lunar surface
Using Cosmic Ray Scattering to Map Astroid Interiors to 1 Kilometer and More NASA Advanced Concepts
Brian Wang | Next Big Future

Several of the new NASA NIAC projects. Pions and Muons from galactic cosmic ray collisions can be used to map the interior of asteroids to the meter scale and a depth of a kilometer. A project to develop suborbital, 10 meter class telescopes suitable for operation from radio to THz frequencies. The telescope consists of an inflatable, half-aluminized spherical reflector deployed within a much larger carrier balloon – either zero pressure or super pressure.
Printing Biomaterials Out of Thin Air, Deep Sleep Transfer to Mars and Plasmonic Thruster Arrays
Brian Wang | Next Big Future
More of the new NASA NIAC projects. Imagine being able to print anything from tools and composite building materials to food and human tissues. Imagine being on Mars with the ability to replace any broken part, whether it's a part of your spacesuit, your habitat, or your own body. We propose a technique that would allow just that by printing 3D arrays of cells engineered to…
New NASA Advanced Concepts such as Eternal flight, Pulsed Fission-Fusion Propulsion
Brian Wang | Next Big Future
More NASA NIAC projects. Pulsed fission-fusion propulsion would use a Z-Pinch device could be used to ignite a thermonuclear deuterium trigger. A project will try to design unlimited duration flight with detailed analysis of the key differences that enable a reduction in structural weight by 50%, while also decreasing the drag by 50% through significantly higher aspect ratio wings, higher wing loading, and lower payload drag.
Summer Break
C.C. Petersen | The Spacewriter's Ramblings
TheSpacewriter talks about some late-summer skygazing.
Ancient Delta is Newest Evidence for Martian Ocean
Paul Scott Anderson | The Meridiani Journal
Whether or not Mars once had an ocean has been a subject of much debate for many years. There is substantial evidence pointing toward the possibility, but no "smoking gun" yet. Now, a new discovery from scientists at the California Institute of Technology (Caltech) is fueling that debate again – an ancient delta that appears to have emptied into the hypothetical ocean in…
Watch for updates until CoS #314 next week!
Original image source:  http://www.flickr.com/photos/looking_to_the_east/6086284946/#