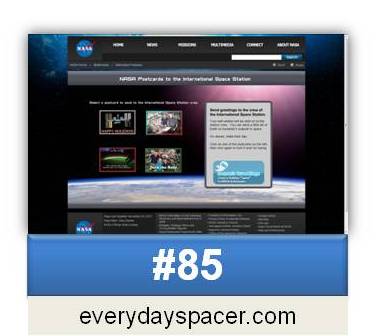 If you collect stamps, you may be a philatelist.
If you collect coins, you might be a numismatist.
If you collect postcards, you're a deltiologist.
"Worldwide, deltiology is thought to be the third largest hobby after stamp collecting and coin/banknote collecting. Postcard clubs may be found in many countries; and these clubs, as well as related organizations, frequently host postcard shows." ~Wiki
Just today, I found a new way to enjoy this hobby.
You can send a (virtual) postcard to the crew of the ISS (International Space Station).
Just visit the NASA postcard site, choose one of the images, click on it again then type in your message.
You can even pick the 'stamp' on the postcard.
All set?  Hit the 'Send' button.  I did!  ;)
NOTES:
*Anyone with access to the internet can participate
*Very cool for kids
*No cost
Sources
*http://en.wikipedia.org/wiki/Stamp_collecting
*http://en.wikipedia.org/wiki/Coin_collecting
*http://en.wikipedia.org/wiki/Deltiology
*http://www.nasa.gov/externalflash/postcard/