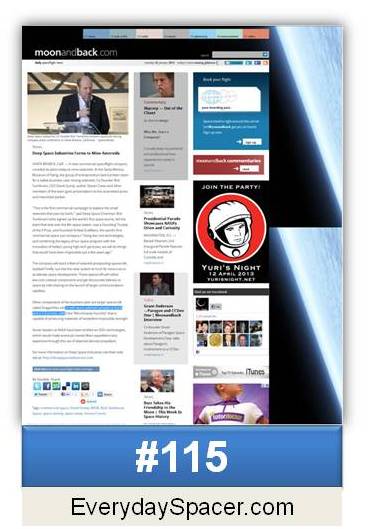 There are a number of people I've known in the space industry for quite some time.  Suddenly, I'm seeing them in articles about starting a space business… well, the news is just breaking on old news for Dennis.  He just built a website for his business, though I'm not sure why.
The primary reason for a business to devote resources to an online presence is – to get more business!
Is this what Skycorp, Inc.com is for?
If you want to stay in touch with your clients, social media is probably better for that.
Will they even serve customers or other businesses?  Will those businesses look for Skycorp online?
I'm not sure.
Then there's Deep Space Industries.  Very flash.  Are they really 'Miners' though?  I don't think Rick or Steven are.  Not sure about David.  Dreamers, certainly.  Makers, could be. Explorers, oh yeah.  I think that they'd better hire the miners though.
Anyone out there know someone who's a miner?  (no, not under aged, someone who knows how to mine things from earth and rock)
Oh wait, dig a little deeper and you'll find Mark!  Yeah, he seems to have some background in mining.
Both sites are black with white font.  While kind of cool for a space site, it's really hard for visitors to read.
And, sadly, they seem to be mostly or  all male.
What trumps all of that?  They are doing something!
Remember, it's all about action!
NOTES:
*Anyone can start a business if local laws allow it
*Even young folks can get help from their parents
*While many things can be low or no cost, there will probably be some costs associated with starting and running a business
Sources
*http://moonandback.com/2013/01/22/deep-space-industries-forms-to-mine-asteroids/
*http://www.skycorpinc.com/Skycorp/Home.htmlhttp://www.skycorpinc.com/Skycorp/Home.html
*http://deepspaceindustries.com/
MY APOLOGIES I recently activated a 'captcha' plug-in. Each comment will now verify you are a visitor who wants to leave an actual comment. I saw hundreds of messages a day which had nothing to do with Everyday Spacer, or you. The task of sifting and sorting was keeping me from writing and from your real comments. Please reach out as you wish, I want to hear from you and be of service, as I am able. I would not use the 'captcha' program if I didn't have to.