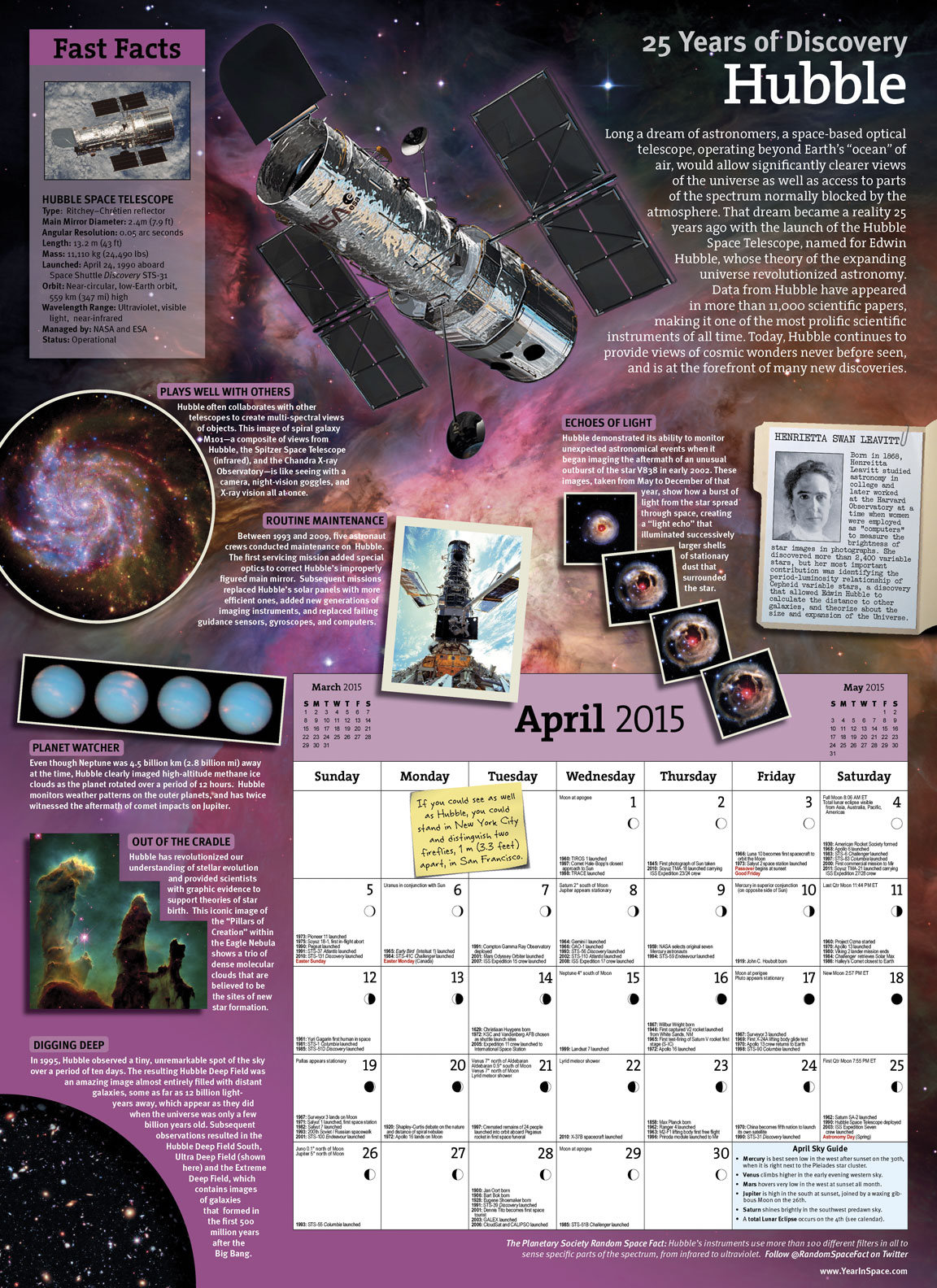 The very generous Steve Cariddi at The Year in Space wrote to me again this year and offered to send their 2015 Wall Calendar to me to review.
I'm very pleased to tell you that this is my review (watch for a giveaway coming soon too!).
I'm doing better than last year so let's get to it!
The Year in Space wall calendar format is the same huge size that it was last year:
16″x 11″ in the package, 16″ x 22″ hanging open on the wall
It's basically a modest space poster which you can change every month!
Each month you'll see:
An in-depth exploration of human space flight, planetary exploration, or deep sky wonders
Multiple images and detailed captions
A mini-biography of famous astronomer, scientist, or astronaut related to the topic
Background info and fun facts
A sky summary of where to find naked-eye planets
Space history dates
Major holidays (U.S. and Canada)
Daily Moon phases graphically displayed
Room for notes and appointments
I just love the brilliant images in the Calendar.  You can really dive into the written and graphic content on these pages!  Much of what impressed me last year is carried through this year.
I really like the Bill Nye statement inside the front cover (excerpt):
"What will be discovered this year in space?  We can be sure that something new and astonishing will be found beyond our atmosphere.  Even as these pictures amaze us, keep in mind they are from the past. That work has already been done.  Just imagine what images will be available to us next year.  So, as you mark this calendar each week, I hope you reflect on how far our humble species has come, but especially I hope you'll think about what's next for us." ~Bill Nye, The Planetary Society
Brilliant!
The Year in Space Calendar is published in cooperation with The Planetary Society!
I do not see myself 'marking' this calendar though.  I have a plain paper one I carry everywhere for that!  To me, these are collectibles.
I do wonder what is to come.  What do you think we'll discover in 2015?
Source(s):  http://www.yearinspace.com/wall-calendar
Disclosure: I was not financially compensated for this post. I received a sample of the product for review purposes. The opinions are my own, based on my personal experience with the product.