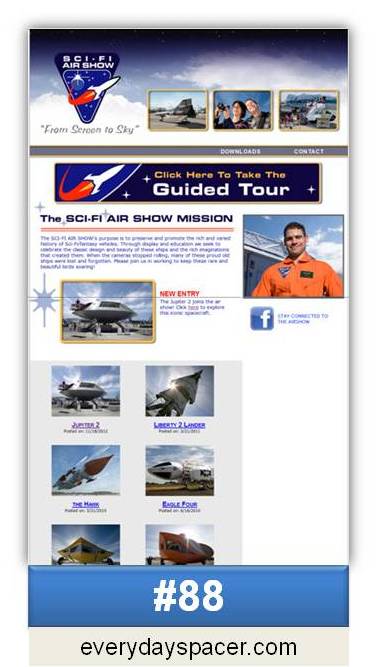 While the Sci Fi Airshow (pictured) is the greatest show you'll never attend, It serves as a reminder of how wonderful being at an airshow can be.
Airshows are often annual events and are seen in many areas of the USA and other places.
"An air show, also "airshow", Air Fair, or Air Tatoo is an event at which aviators display their flying skills and the capabilities of their aircraft to spectators in aerobatics. Air shows without aerobatic displays, having only aircraft displayed parked on the ground, are called "static air shows"." ~Wiki
Here's a database of shows, mostly in the USA: 2012 Airshow Schedule
The Wiki entry has a box with 'International Airshows' near the bottom of the page.
I remember being at an air show in Cleveland (nice NASA displays) with my daughter.  We were at a helicopter and every kid in front of mine hopped in & hopped right out again.  My kid got in and spent 30 minutes looking over everything.  The kids behind her were sooo impatient, until they figured out that there was another side to the thing.  I liked indulging my daughter when I could.
Wouldn't a Sci Fi Airshow be wonderful?  Would you attend if you could?  BTW, it's always available on the website.
NOTES:
*Find an airshow near you
*Often very family friendly
*Usually there is a cost involved
Sources
*http://www.scifiairshow.com/
*https://www.facebook.com/pages/Sci-Fi-Air-Show/102240326492702
*http://technabob.com/blog/2010/06/22/sci-fi-airshow/
*http://www.aero-pix.com/schedule/schedule.htm
*http://en.wikipedia.org/wiki/Air_show